Krievijas žurnālisti mēdz teikt, ka Rīgas "Dinamo" ir kā kūrorts. Uz KHL fona algas Latvijas galvaspilsētā ir zemākas, tomēr hokejistiem ir iespēja dzīvot komfortablā pilsētā (tas ir svarīgi, ja esi spēlējis Ņižņekamskā), arī mediju spiediens šeit ir krietni mazāks, pat varētu teikt, ka šeit tā vienkārši nav. Kāds to arī izmantojis, lai karjeras pēdējos gadus pavadītu mierā, kā to izdarīja, piemēram, Inetas Radēvičas vīrs Pjotrs Sčastlivijs.
Savukārt dažiem citiem Krievijas spēlētājiem "Dinamo" kļuva par karjeras tramplīnu. Spilgtākais piemērs, protams, ir Timurs Biļalovs. Vārtsargs, par kuru Latvijā neviens neko nezināja, ātri guva treneru uzticību un pēc vienas sezonas Rīgā atgriezās Kazaņā, kļūstot par Gagarina kausa pretendentes pamatvārtsargu.

Pēc "Dinamo" atjaunošanas neoficiāli tika runāts, ka no KHL puses ir aizliegums Rīgas klubam piesaistīt hokejistus no Krievijas. Un, papētot komandas sastāvu, pirmajās divās sezonās "Dinamo" rindās tiešām nevarēja atrast nevienu spēlētāju no kaimiņvalsts. Kā pirmais "logu" uz Rīgu atvēra vietējā hokejā īpaši nezināms Vitālijs Karamnovs, savukārt šosezon "Dinamo" kopā uzspēlējuši deviņi hokejisti no Krievijas – uzbrucēji Genādijs Stoļarovs, Deniss Paršins, Gļebs Zirjanovs, Jevgēņijs Gračovs, Pāvels Černovs, kā arī vārtsargi Staņislavs Gaļimovs, Iļja Proskurjakovs, Ivans Naļimovs un Aleksandrs Lazušins.
Ainārs Podziņš (10./11 un 11./12. gada sezona)
72 spēles; 5+1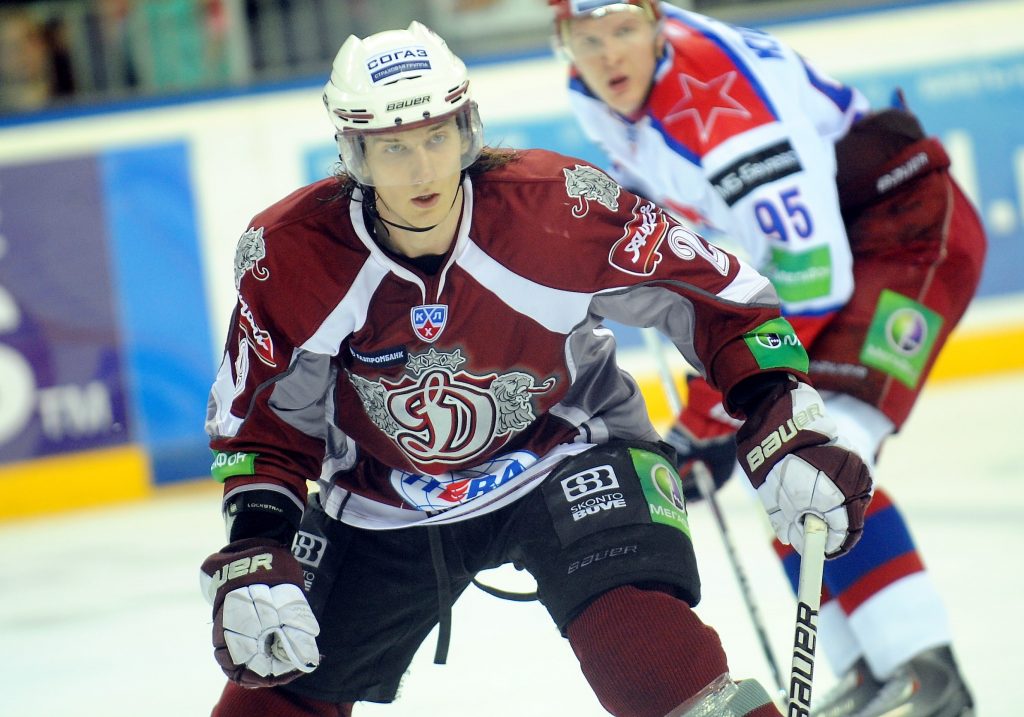 Jūrmalā dzimušais uzbrucējs hokeja pamatus apguva Krievijā un, par spīti savam vārdam un uzvārdam, vairāk tika uztverts kā kaimiņzemes pārstāvis, it īpaši tādēļ, ka viņam ir Krievijas pase. Debiju KHL viņš gan piedzīvoja Rīgas klubā. Acīmredzami, ka tobrīd viņš vēl nebija gatavs spēlēšanai tik augstā līmenī, par ko liecina piecas ripas 57 spēlēs pamatturnīrā divu sezona laikā. Savā trešajā sezonā Latvijā Podziņš spēlēja MHL vienībā "Rīgā" un "Dinamo" fārmklubā "Liepājā", vēlāk pārceļoties uz "Vityaz". Karjeras turpinājums sanāca visai raibs. Pagājušajā sezonā Podziņš "Donbass" sastāvā kļuva par Ukrainas čempionu un šosezon pārcēlās uz citu turnīra vienību – "Kramatorsk", kura pagaidām spēlē vienā pilsētā ar "Donbass".
Vitālijs Karamnovs (10./11. gada sezona)
18 spēles; 0+2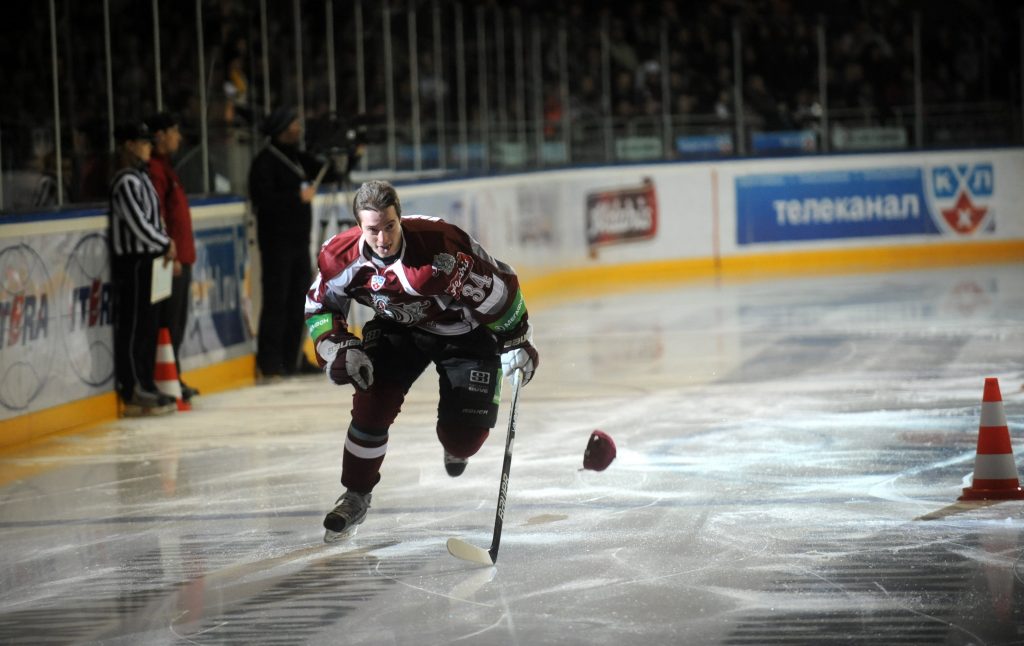 Šī spēlētāja tēvs Vitālijs savukārt spēlēja Nacionālajā hokeja līgā (NHL). Dēlam šādas virsotnes sasniegt neizdevās un arī viņa sezona "Dinamo" atmiņā nepalika. Tobrīd 21 gadu vecais uzbrucējs 18 mačos vārtus neguva, izdarot vien divas piespēles. Jaunatnes hokeja līgas (MHL) vienībā viņa sniegums bija krietni rezultatīvāks – 7 vārti un 16 piespēles 25 pamatturnīra cīņās, kā arī viens vārtu guvums trīs "play-off" mačos. Bija skaidrs, ka ilgi viņš Rīgā neaizkavēsies. Pēc ne pārāk veiksmīgiem mēģinājumiem nostiprināties KHL, Karamnovs spēlēja Krievijas hokeja otrajā ešelonā (VHL), bet tagad viņš spēlē Ukrainas grandā Doņeckas "Donbass" kopā ar diviem Latvijas hokejistiem – aizsargu Ņikitu Koļesņikovu un uzbrucēju Oļegu Šišļaņņikovu.
Pjotrs Sčastļivijs (14./15. un 16./17. gada sezonas)
73 spēles; 11+11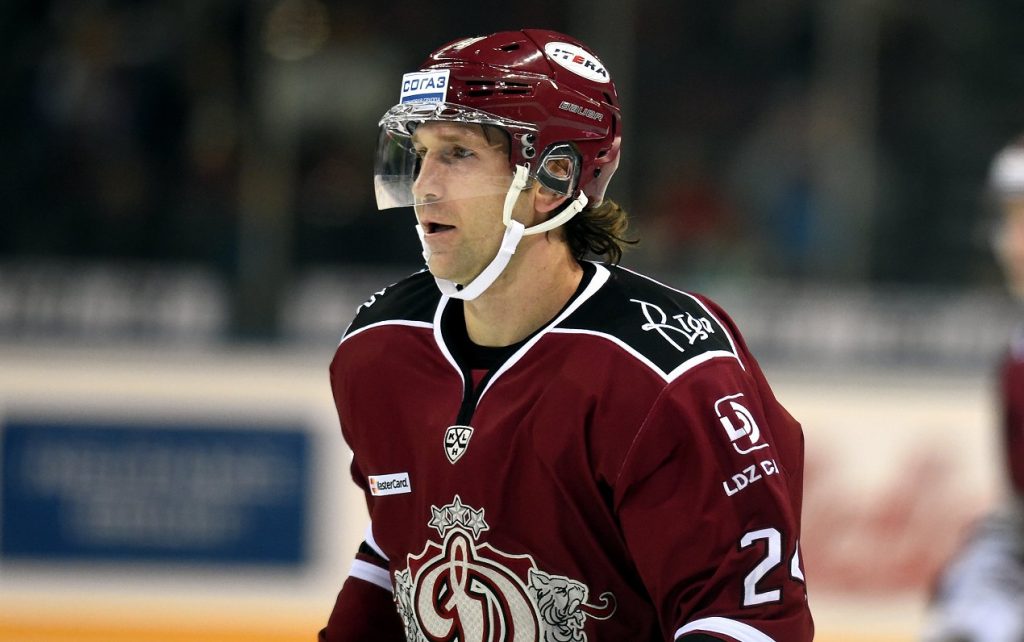 2011. gada Gagarina kausa ieguvējs Rīgā pirmo reizi ieradās 2014./2015. gada sezonā. Jau tobrīd viņa karjeras labākie gadi bija aiz muguras, un "Dinamo" viņam bija iespēja noturēties KHL līmenī. Arī veselība vairs nebija tāda, kā pirms desmit gadiem. Sčastļivija gadījumā par labu Rīgai bija vēl viens svarīgs apstāklis – viņa sieva, izcila Latvijas vieglatlēte Ineta Radēviča. Pirmajā sezonā uzbrucējs aizvadīja 27 mačus, atzīmējoties ar 5+5 un pārcēlās uz Sočiem. Pēc pusotras sezonas Krievijas kūrortpilsētā hokejists atriezās Rīgā, aizvadot savu pēdējo sezonu KHL līmenī. Karjeru viņš noslēdza Rumānijas vienība "Csikszereda", kura ir slavena ar bijušo KHL hokejistu piesaistīšanu.
Filips Toluzakovs (15./16. un 16./17. gada sezonas)
38 spēles; 7+6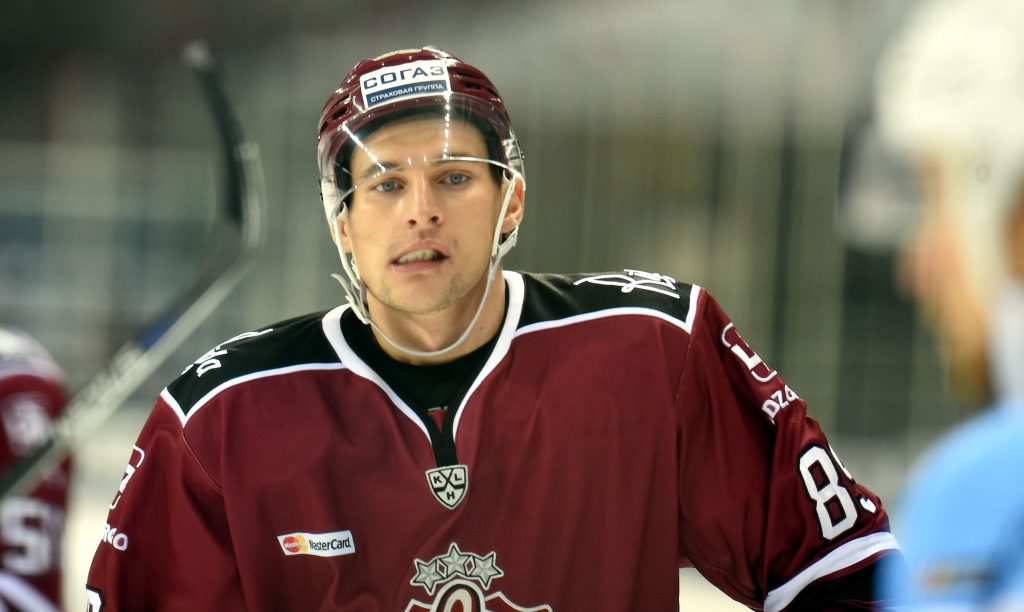 Vēl viens "noname", kura piesaistīšana liek uzdot vairākus jautājums tā brīža menedžmentam. Hokejists, kurš nespēja aizķerties nevienā KHL klubā, "Dinamo" pievienojās sezonas laikā. Sākums gan bija cerīgs – trīs vārti 11 spēlēs un līgums arī uz nākamo sezonu. Tajā gan Toluzakova sniegums lika vilties komandas galvenajam trenerim Normundam Sējējam un nu jau uzbrucējs savu meistarību varēja demonstrēt Latvijas Virslīgas vienības "Liepāja" sastāvā, tiesa, visai īsu laiku – divos mačos. Pēc atlaišanas no "Dinamo" Toluzakovs KHL līmenī vairs neatgriezās, un joprojām spēlē VHL.
Nikolajs Žerdevs (17./18. gada sezona)
18 spēles; 3+2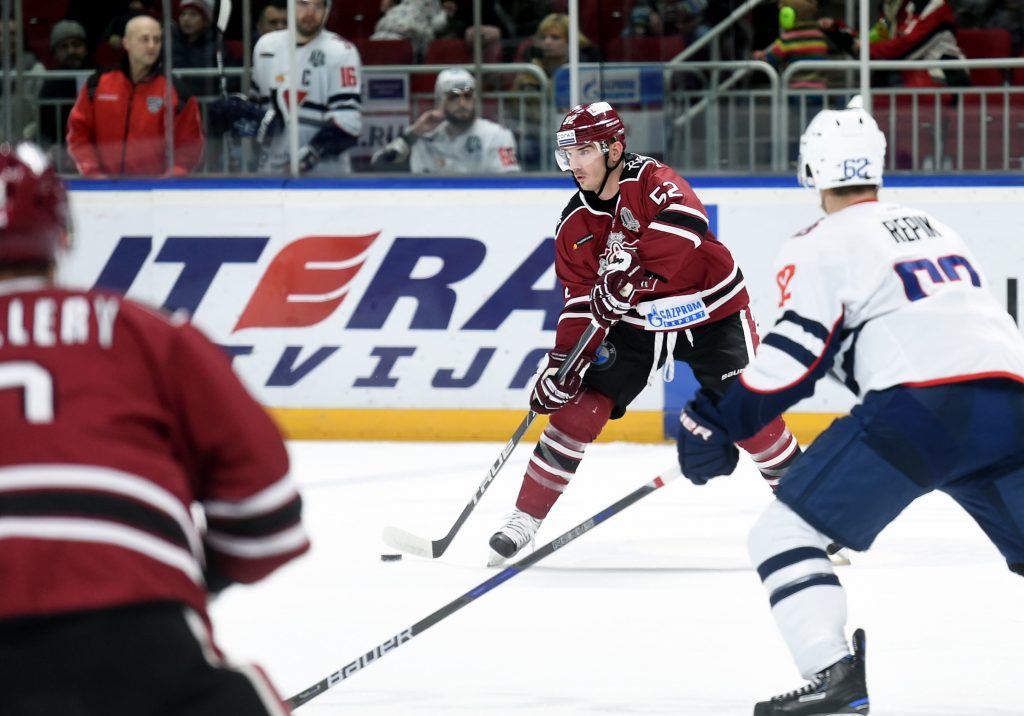 Diez vai vēl pienāks laiki, kad Rīgas "Dinamo" spēlēs NHL drafta ceturtais numurs. Talantīgajam uzbrucējam ar vairāk nekā 400 spēlēm NHL paredzēja spožu nākotni, bet alkohola problēmas noveda pie arvien lielākās lejupslīdes, līdz karjeras ceļš viņu aizveda uz Rīgu. Visiem bija skaidrs – tā ir pēdējā iespēja. Varēja redzēt, ka Žerdeva meistarība ir augstāka par "Dinamo" vidējo līmeni, tomēr arī Latvijas galvaspilsētā uzbrucējs nespēja atturēties no iedzeršanas. Viņu atlaida, bet tad Juris Savickis kopā ar Ģirtu Ankipānu deva hokejistam tiešām pēdējo iespēju. Diemžēl, arī toreiz Žerdevs neattaisnoja uzticību un tika atlaists. Nākamo sezonu viņš izlaida, bet turpmākie mēģinājumi atgriezties hokejā izrādījušies neveiksmīgi. Vairākās intervijās hokejists apgalvojis, ka viņš izārstējies no alkoholisma, tomēr reanimēt viņa karjeru tas nav palīdzējis. Oficiāli Žerdevs vēl nav pielicis punktu, bet diez vai kāds būtu gatavs dot viņam vēl vienu iespēju.
Staņislavs Čistovs (17./18. gada sezona)
7 spēles
Pieredzējušais uzbrucējs, kurš savulaik Krievijas U18 un U20 izlašu sastāvos, 34 gadu vecumā izrādījās nevajadzīgs Maskavas "Spartak". Interesi par kādreizējo Čeļabinskas "Traktor" kapteini neizrādīja neviens klubs, jo tikai tā var paskaidrot viņa došanos uz Rīgu par krietni mazāku naudu. Bet arī Čistovam "Dinamo" posms nekļuva par karjeras restartu, proti, viņš aizvadīja vien septiņas spēles un punktus tajās neguva. Nākamo sezonu aizvadot VHL, viņš pielika punktu, tādējādi arī Čistovam "Dinamo" kļuva par pēdējo KHL klubu.
Artjoms Aļajevs (18./19. gada sezona)
17 spēles; 1+2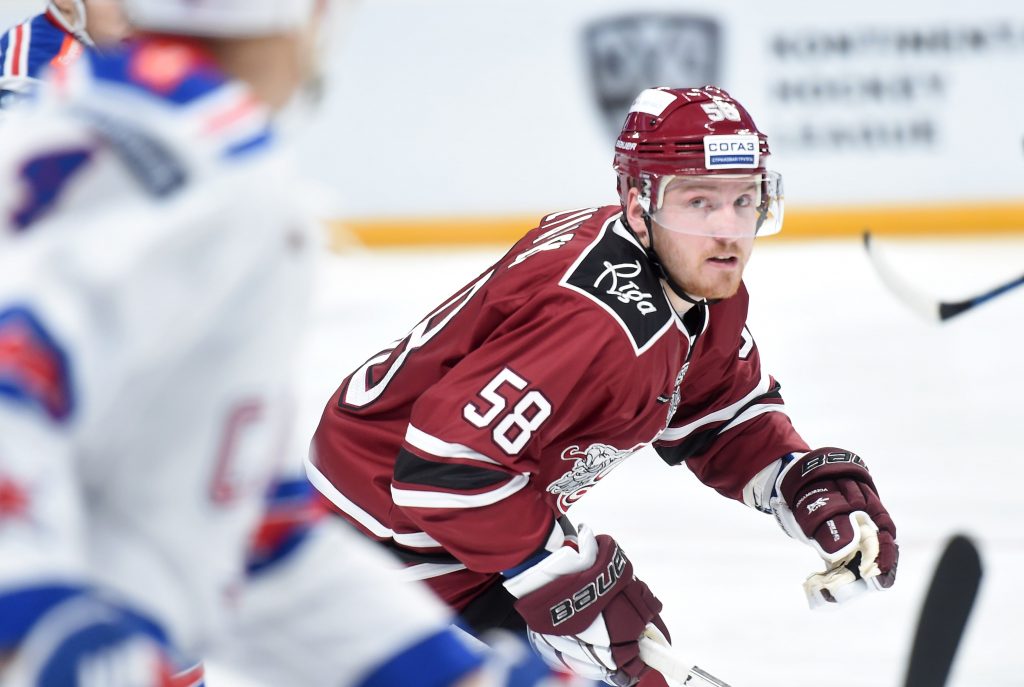 Ņižņijnovgorodas "Torpedo" nevēlējās zaudēt savu audzēkni, taču nevarēja dot viņam nepieciešamo spēļu praksi.  Taču nedz Maskavas "Spartak", nedz Toljati "Lada" rindās aizsargs nevarēja nostiprināties sastāvā. Un tad nāca iespēja pārcelties uz Rīgu. Ģirta Ankipāna vadītajā komandā Aļajevs aizvadīja 17 spēles un 2018. gada decembrī izpelnījās izsaukšanu atpakaļ uz "Torpedo", kurā viņš spēlē arī šosezon.
Ruslans Pedans (18./19. gada sezona)
4 spēles
Vēl viens ne pārāk zināms aizsargs "Dinamo" rindās parādījās 2018. gada decembrī, taču komandā aizvadīja vien četras spēles un līdz sezonas beigām laukumā vairs nedevās.
Dmitrijs Šuļeņins (18./19. gada sezona)
48 spēles; 0+1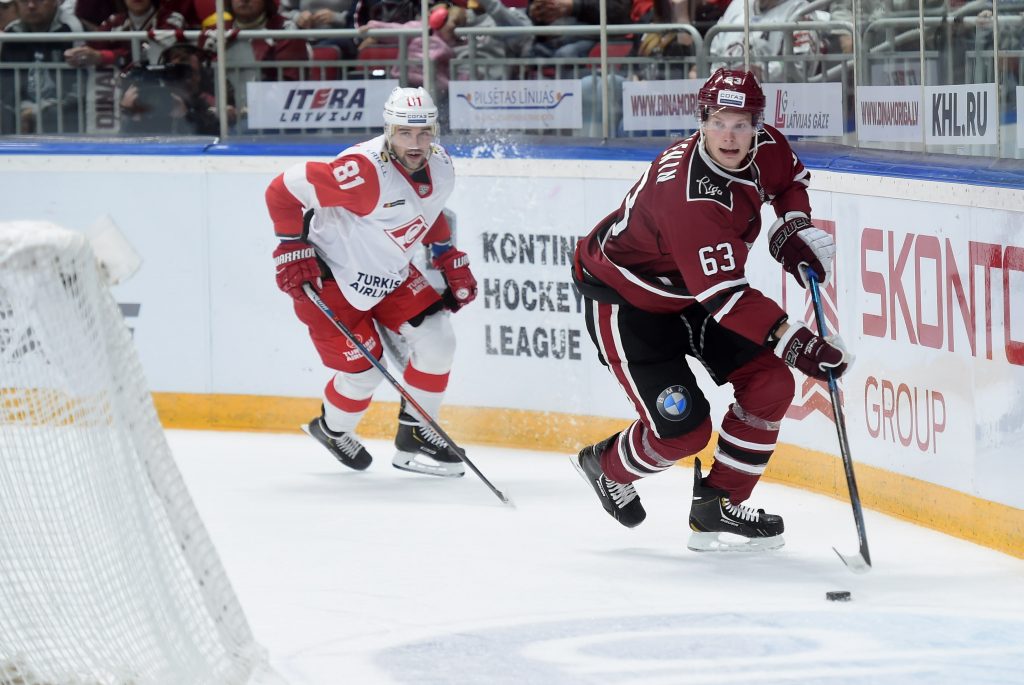 CSKA piederošajam 2015. gada MHL čempionam Šuļeņinam bija grūti cerēt uz vietu armijas kluba sastāvā, līdz ar ko viņš laipni tika "izīrēts" (mēs atceramies, ka oficiāli KHL neeksistē īre) rīdziniekiem. Aizvadot pilnu sezonu, kurā viņš neko spilgtu nerādīja, tobrīd 23 gadus vecais Šuļeņins CSKA izrādījās nevajadzīgs. Mēģinot aizķerties KHL, viņš devās uz Habarovsku, taču aizvadīja tikai vienu maču un kopš tā laika līgā vairs nav spēlējis. Pašlaik viņš ir Minskas "Yunost" hokejists.
Sergejs Gimajevs (18./19. un 19./20. gada sezonas)
84 spēles, 1+1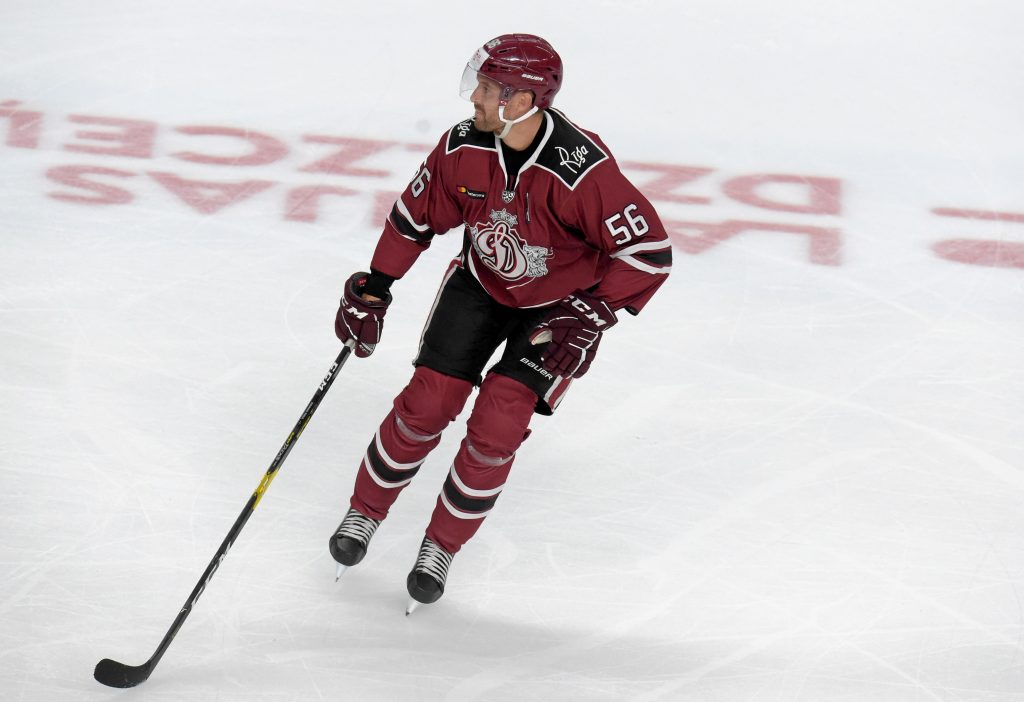 Pazīstamā aizsarga un komentētāja Sergeja Gimajeva dēla karjera pirms pievienošanās "Dinamo" bija visai raiba, jo pirms tam hokejists pārstāvējis piecas KHL vienības. Nevarētu teikt, ka pēc sezonas Podoļskas "Vityaz" viņš pēkšņi palika nepieprasīts, taču viņa gadījumā par labu Rīgas variantam bija tas, ka spēlētāja sieva ir no Latvijas. Nekādus brīnumus "Dinamo" rindās Gimajevs nerādīja, bet spēlēja stabili savā līmenī. Tieši Rīgā viņam otrajā sezonā izdevās pārtraukt sauso sēriju KHL pamatturnīrā ar precīzu metienu no laukuma centra. Pirms tam aizsargs ripu pretinieku vārtos iemeta 2012./2013. gada sezonā, būdams CSKA spēlētājs. Šosezon viņš "Dinamo" izrādījās nevajadzīgs un devās uz Pekinas "Kunlun Red Star", kur nospēlēja vien astoņas spēles un paziņoja par karjeras beigām.
Rīdzinieks Gimajevs par dzīvi Latvijā, tēva lomu un slaveno BMW
Timurs Biļalovs (18./19. gada sezona)
38 spēles; 93,0% un 2,18 VIV
Kurš gan to būtu domājis, ka vārtsargs no "Ak Bars" sistēmas kļūs par "Dinamo" līdzjutēju mīluli? Rīgā ierādies kā Kristera Gudļevska rezervists, 23 gadus vecais Biļalovs pacietīgi gaidīja savu iespēju doties laukumā, jo pirmajās piecās spēlēs viņš palika uz soliņa. Kad krievu hokejistam tomēr deva spēļu praksi, kļuva skaidrs, ka "Dinamo" menedžments izvilcis laimīgo lozi. Biļalovs spēlēja pārliecinoši un kļuva par vienu no svarīgākajiem faktoriem kluba cīņā par "play-off" līdz pat pēdējai spēļu kārtai. Pēc sezonas vārtsargs ne īpaši vēlējās pamest Rīgu, bet Kazaņai bija savi plāni. Tiesa, arī Tatarstānas galvaspilsētā Biļalovs demonstrēja tikpat saturīgu sniegumu, bet krietni labāka aizsardzība palīdzēja hokejistam atjaunot sausās sērijas rekordu Krievijas čempionātos un saņemt izsaukumu uz Krievijas izlasi.
"Dinamo" uzmirdzējušais vārtsargs Biļalovs: Negribēju pamest Rīgu
Maksims Tretjaks (18./19. un 19./20. gada sezonas)
5 spēles, 87,9% un 4,68 VIV
No Trīskārtējā olimpiskā čempiona Vladislava Tretjaka mazdēla jau kopš karjeras sākuma sagaidīja tikpat lielus brīnumus. Maksims ne tuvu nebija sava vectēva līmenim un pat nevarēja cerēt uz stabilu vietu kādā no KHL klubiem, nemaz nerunājot par izlasi. Tajā pašā laikā Maskavas CSKA Tretjaku visu laiku turēja tuvumā un deva viņam cerību, kurai nebija lemts piepildīties. Pat "Dinamo" viņu paņēma kā trešo vārtsargu un ar šo lomu Tretjakam bija jāsadzīvo. Abos gadījumos sezonas otrajā pusē CSKA viņu atgrieza un sūtīja uz fārmklubu. Un tikai šosezon vārtsargam ir stabila spēļu prakse KHL, pārstāvot Soču klubu.

Aleksandrs Protapovičs (19./20. gada sezona)
32 spēles; 5+7
Iegūstot šo uzbrucēju savā īpašumā no Kazaņas "Ak Bars", Jekaterinburgas "Avtomobilist" īsti nezināja, ko ar viņu darīt. Un neatrada neko labāku kā piedāvāt viņu "Dinamo". 22 gadus vecais Protapovičs izskatījās labi, un ar krietni mazāku spēļu skaitu nekā pārējiem Rīgas kluba hokejistiem, viņš ar 12 punktiem ierindojās septītajā pozīcijā komandas rezultatīvāko spēlētāju sarakstā. Savainojuma dēļ sezona noslēdzās priekšlaicīgi, Protapovičs atgriezās Jekaterinburgā un šosezon ir stabils "Avtomobilist" spēlētājs.
Ņikita Setdikovs (19./20. gada sezona)
25 spēles; 2+6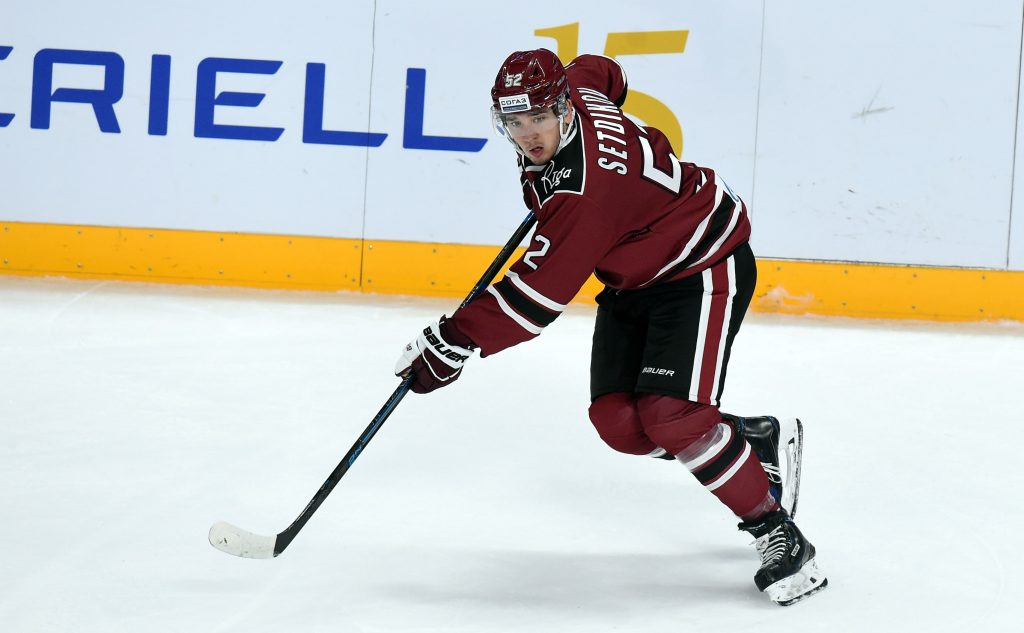 Vēl viens "Avtomobilist" hokejists, kuram komanda nespēja atrast vietu savās rindās un komandēja uz Rīgu. Arī Setdikovs neizskatījās slikti, viņam bija gan meistarība, gan raksturs. Tiesa, astoņi punkti "Dinamo" rindās nebija pietiekams iemesls, lai par viņu varētu runāt kā par stabilu "Avtomobilist" spēlētāju nākotnē. Pēc sezonas Latvijā Setdikovs pusi no nākamās sezonas pavadīja VHL, bet tad viņš tika aizmainīts uz Novosibirskas "Sibir"..
Kirils Sļepecs (19./20. gada sezona)
33 spēles; 4+3
Tiek uzskatīts, ka Jaroslavļā ir viena no labākajām hokeja akadēmijām Krievijā. Tās audzēknis, visu Krievijas U-izlašu dalībnieks Sļepecs tā arī nespēja atrast savu vietu "Lokomotiv" rindās, pārsvarā spēlējot fārmklubā – VHL vienībā "Buran". Arī Sļepeca karjerā "Dinamo" pagaidām ir pēdējais KHL klubs. Rīgas posmā varēja redzēt, ka uzbrucēja meistarības līmenis ir ļoti labs, tomēr kaut kā pietrūka, lai iemestu vairāk nekā četrus vārtus 33 spēlēs. Arī šosezon viņš spēlē VHL.