Otrais pilnais mēnesis pagājis NBA, un regulārā sezona jau ir pusē. Februāris spēcīgākajā basketbola līgā bija ļoti interesants, latviešu basketbolisti sāka demonstrēt labāku sniegumu un to pašu var teikt arī par viņu pārstāvētajām komandām, savukārt Bruklinas "Nets" sāk pamazām visus biedēt. Par visu pēc kārtas!
Rietumu divas labākās komandas – neviena no Losandželosas
Pagājušajā sezonā, aizmainot Krisu Polu uz Oklohomsitijas "Thunder", šķita, ka viņš spēlēs maz, komanda būs slikta un sezonas gaitā pieredzējušais basketbolists tiks aizmainīts. Bet nekā – "Thunder", pateicoties Pola lieliskajam sniegumam, ieveda komandu izslēgšanas spēlēs.
Starpsezonā, kad Pols nonāca Fīniksas "Suns", daudzi uzskatīja, ka veterāns dos ļoti vērtīgu pienesumu Devina Bukera un Deandre Eitona pārstāvētajai komandai, taču neviens nedomāja, ka regulārās sezonas vidū Fīniksa būs 2. vietā Rietumu konferencē! Laika periodā no februāra līdz Zvaigžņu spēles pārtraukumam "Suns" izcīnīja 17 uzvaras un piedzīvoja tikai trīs zaudējumus, kas dod iepriekšminēto otro vietu konferencē.
Līdzjutēji un eksperti joprojām norāda uz to, ka jebkurā brīdī Pols var noplīst uz ilgāku laiku, taču pēdējo divu sezonu laikā tas nav noticis. Februāra 14 spēlēs viņš laukumā vidēji pavadīja 31,3 minūtes, guva 17,4 punktus (precizitāte no spēles – 53,6%, no soda metienu līnijas – 95,5%), atdeva 9,4 rezultatīvas piespēles, izcīnīja 4,9 atlēkušās bumbas un pārtvēra 1,4 bumbas.
Rietumu galvgalī atrodas Jūtas "Jazz" – ja janvārī komandai izdevās uzvarēt desmit spēlēs pēc kārtas, tad februārī bija deviņu uzvarētu spēļu sērija. Pirms došanās pārtraukumā Jūta piedzīvoja zaudējumus pret "Pelicans" un "76ers" un būs ļoti interesanti pavērot komandas sniegumu turpmāk, jo "Jazz", lai gan spēlē labi, tāpat īsti netiek piesaukta titula sakarā. Apskatoties bukmeikeru prognozes, Jūta ir ceturtā galvenā favorīte.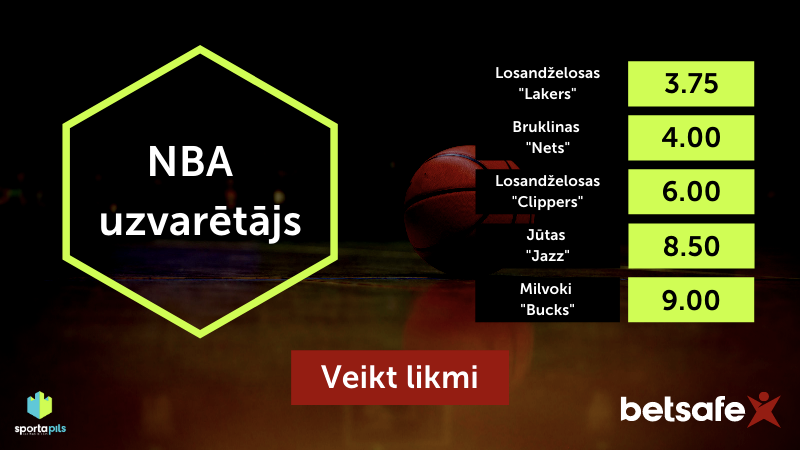 "Wizards" – cerības par izslēgšanas spēlēm nav mirušas?
Iepriekšējos apskatos minēju, ka Dāvja Bertāna pārstāvētā "Wizards" ir ar labu potenciālu, lai cīnītos par izslēgšanas spēlēm. Sākot ar 14. februāri, komanda aizvadījusi 12 spēles un izcīnījusi astoņas uzvaras, šobrīd Austrumos pakāpjoties uz 12. vietu. Tikai četru uzvaru attālumā komanda ir no "play-in" zonas, tāpēc nevar teikt, ka sezona ir norakstīta.
Aizvien labāk no tālās distances met Dāvis Bertāns. Decembrī viņa tālmetienu precizitāte bija tikai 28,6%, janvārī tā pakāpās līdz 34,8%, bet februārī bija jau 43,5% un pamazām pieaug arī iemesto trīspunktnieku skaits – no diviem decembrī līdz 3,3 februārī. Latvijas lāzers fenomenāls bija 17. februārī, kad realizēja deviņus tālmetienus no 11 un iemeta visus astoņus soda metienus, kopā savācot 35 punktus! Bertānam jāturpina mest, tendence kopumā ir pozitīva, un tieši Bertāns būs viens no tiem, kas noteiks Vašingtonas sekmes turpmākajā sezonā.
"Mavericks" un Porziņgis progresē
Lielas ekspektācijas bija Latvijas līdzjutējiem un ne tikai par Dalasas "Mavericks" sekmēm šosezon, taču pagaidām redzētais laukumā neliecina par to, ka šī būs TĀ sezona, bet viss nav arī tik slikti. Nogrieznis no februāra līdz Zvaigžņu spēlei bija sekmīgs, jo no 14 spēlēm uzvarētas 11, kas šobrīd dod 8. vietu Rietumu konferencē.
Pēc katras neveiksmīgās Kristapa Porziņģa spēles starp Latvijas līdzjutējiem dzirdēti teksti "viņš ir slikts spēlētājs", "viņš ir pārvērtēts" utt. Kārtējo reizi jāuzsver, ka sezonu viņš uzsāka vēlāk, jo starpsezonā tika veikta operācija. Protams, ka uzreiz viņš nelidos pa laukumu un nemetīs no centra kā Maikls Džordans filmā Space Jam, taču, tāpat kā ar Bertānu, liepājnieks prognozē.
Salīdzinājumam – februārī viņš metienus realizēja ar 50,3% precizitāti (janvārī – 44,9%), tālmetieni krita ar 40,7% precizitāti (janvārī – 28,6%), soda metieni – 88,9% (janvārī – 79,2%). Vidēji mačā februārī Porziņģim 22,2 punkti (janvārī – 18,6), abos mēnešos latvietis izcīnīja vidēji astoņas bumbas, februārī atdeva 1,8 piespēles (janvārī – 0,9), bloķēja 1,8 metienus (janvārī – 1,6) un pārtvēra 0,6 bumbas (janvārī – 0,2). Kas ir pats interesantākais – februārī viņš laukumā pavadīja nedaudz mazāku spēles laiku nekā mēnesi iepriekš attiecīgi 29,3 un 30 minūtes.
Galvenā vijole Dalasas uzbrukumā ir un būs Luka Dončičs, bet Porziņģis ir lielisks otrais spēlētājs, tiesa, prasās vēl trešā zvaigzne vai zvaigznīte, kas būtu pazudušais puzles gabaliņš. Pēdējā laikā izskanēja baumas, ka Porziņģis varētu tikt aizmainīts, lai gan komandas prezidents Marks Kjūbans noraidīja šīs runas. Var teikt, ka Latvijas mediji uzpūta no mušas ziloni, taču nevar viņus vainot par savu darbu. Komandu ģenerālmenedžeri diendienā runā savā starpā, pārspriež spēlētājus, un tas ir normāls darba process. Ja katru dienu ziņotu par to, ko ģenerālmenedžeri iespējams runā, būtu jāveido dzeltenās preses NBA versija.

Bruklinas "Nets" – lielākais līgas bieds?
Arī "Nets" tēma tika pārspriesta jau iepriekš, bet nedrīkst nerunāt par šo komandu. Izskatās, ka Džeimss Hārdens lieliski iekļāvies savā jaunajā lomā, pie "triple-double" tiekot regulāri, kas rezultējas arī komandas panākumos. "Nets" devās izbraukumā uz Rietumu un izcīnīja uzvaras visās spēlēs, pieveicot "Warriors", "Kings", "Suns", "Lakers" un "Clippers".
Pēdējās 11 spēlēs Bruklina tikusi pie desmit uzvarām, atrodoties tikai vienas uzvaras attālumā no tā, lai pārņemtu Austrumu līderes godu no Filadelfijas "76ers". Tikai vienā no iepriekšminētajām 11 spēlēm piedalījies Kevins Durents, kas nozīmē, ka rezerves komandai vēl ir, turklāt ļoti iespaidīgas. Pagaidām arī izskatās, ka ar lomu sadalīju nebūs problēmas, tiesa, ir grūti iejusties spēlētāju galvās, īpaši Kairija Īrvinga, kad runa būs par izšķirošajiem metieniem izslēgšanas spēlēs.
Komanda pavisam nesen papildinājusi sastāvu ar Bleiku Grifinu. Daudziem līdzjutējiem uzreiz nāk prātā Losandželosas Grifins, kurš lidoja kā traks un trieca pāri bumbu visiem pēc kārtas, taču pēdējo gadu Grifina versija ir krietni citādāka. Neko pārdabisku no Grifina Bruklinā nevajag sagaidīt, bet kā centra spēlētājs aktīvajā un skrienošajā "Nets" sastāvā viņš noteikti iederēsies.
Maiņu termiņa beigas tuvojas
Visiem ieteiktu atzīmēt 25. marta plkst. 22:00 – tas ir pēdējais termiņš, kad komandas var veikt maiņas darījumus. Tuvojoties šim datumam aizvien tuvāk, sāk parādīties aizvien vairāk baumu par dažādiem spēlētājiem.
Interesants gadījums ir ar Andre Dramondu – Klīvlendas "Cavaliers" nosēdinājusi basketbolistu uz soliņa, jo Klīvlenda meklē komandu, uz kuru viņu aizmainīt. Ja pats basketbolists pateiktu, ka nevēlas doties laukumā, sekotu sankcijas no līgas puses, taču šajā gadījumā viss it kā ir normāli, un Adams Silvers ar kolēģiem nereaģē. Šo faktu īpaši uzsvēra Dreimonds Grīns un tam var noteikti piekrist, jo "Cavs" lēmums neatšķiras no tā, ja to izdarītu spēlētājs.
Orlando "Magic" komandā turpina lieliski spēlēt Nikola Vucevičs, bet nav izslēgts, ka viņa dienas Floridā ir skaitītas. Kā viena no ieinteresētajām komandām tiek minēta Bostonas "Celtics", kuras interešu lokā vēl ir Džerami Grents un Harisons Bārnss. Ķeltiem ļoti noderētu papildinājums, jo pagaidām komandas demonstrētais sniegums tālu atpaliek no cerētā.
Baumo, ka Toronto "Raptors" sirds Kails Laurijs arī varētu drīzumā krāmēt koferus, turklāt pats spēlētājs it kā esot teicis, ka uzskata, ka tiks aizmainīts, lai gan publiski, protams, viņš noliedz šo informāciju. "Mavericks" sakarā tiek piesaukts Kevins Lovs, tiesa, grūti saprast šāda darījuma jēgu, ja principā viņš ir krietni vecāka Porziņģa versija. Katru gadu periods ap "trade deadline" ir ļoti interesants, tāpēc noteikti jāseko līdzi "Twitter" jaunākajām aktualitātēm.
NBA Latvijas līdzjutēja "Twitter" komplekts: šiem kontiem Tev noteikti jāpieseko
NBA "fantasy" – spēlētāju anomālijas un izslēgšanas spēļu kalendārs
Ne tikai NBA regulārā sezona sasniegusi ekvatoru, bet arī "fantasy" regulārā sezona tuvojas finišam. Šī sezona no pārējām, neņemot vērā visu COVID-19 situāciju, atšķīrās arī ar to, ka pirms sezonas nebija zināms pilnais spēļu kalendārs, līdz ar to draftā nevarēja izvēlēties spēlētājus, domājot jau par izšķirošajām "fantasy" cīņām. Februāra beigās NBA publicēja atlikušās sezonas daļas kalendāru, tāpēc tagad komandas, kuras jūtas droši par vietu "play-off", ar maiņu palīdzību var mēģināt papildināt savu spēļu kalendāru.
Pagājušajā mēnesī vairāki basketbolisti izcēlās ar iespaidīgām spēlēm. Pašā februāra ievadā Freds Vanvlīts guva 54 punktus un realizēja 11 tālmetienus, to visu darot ar 73,9% precizitāti. Vēl viens mazs sīkums – tam visam viņš pievienoja trīs pārtvertas bumbas un trīs bloķētus metienus. Jau šāda performance nedēļas ievadā var pavirzīt dueļa iznākumu vienas komandas virzienā.
Noteikti varu apsveikt visus, kas no brīvā aģenta tirgus paņēma "Pacers" saspēles vadītāju Tīdžeju Makkonelu. Ja "fantasy" komandai nepieciešams kāds spēlētājs ar daudz piespēlēm un pārtvertām bumbām, viņš ir lieliska izvēle, jo mēneša laikā piecas reizes viņš atdeva vismaz 12 piespēles, bet ķirsītis uz tortes ir pirms nedēļas demonstrētais – 16 punkti, 13 piespēles un 10 (!) pārtvertas bumbas! Varu diezgan droši teikt, ka ar šo performanci vien pārtverto bumbu kategorija šonedēļ (1. – 14. marts) var tikt uzvarēta.
Lielie prieki ar Makkonelu gan tuvākajā laikā varētu beigties, jo paredzams, ka debiju "Pacers" sastāvā drīzumā piedzīvos Keriss Laverts. Tas arī nozīmē, ka Džastins Holidejs vairs nebūs tik vērtīgs spēlētājs. Ziņo, ka "Trail Blazers" sastāvā atgriezīsies Jusufs Nurkičs, tāpēc visiem, kam sastāvā ir Eness Kanters, jādomā, ko darīt ar turku. Nav gan izslēgts, ka Kanters turpinās spēlēt labi, jo sezonas sākumā tā arī bija.
Dreimonds Grīns sezonas sākumā bija briesmīgs, noteikti, ka nepacietīgākie "fantasy" komandu īpašnieki paspēja no viņa atbrīvoties, bet februārī Grīns atdzima no jauna. Pēdējā mēneša laikā viņam vidēji ir 10,7 piespēles, 1,5 pārtvertas bumbas un 1,3 bloķēti metieni. Tieši bloki bija tas, kas visvairāk pietrūka, jo pirmajās 16 spēlēs viņš bloķēja tikai divus metienus, bet nākamajās 15 – jau 20.
Daudzus komandu īpašniekus ļoti iepriecināja Roberts Kovingtons. Līdzīgi kā Grīns, arī Kovingtons sezonas sākumā bija slikts, turklāt viņam bija maz pārtverto bumbu un bloķēto metienu, kas ir šī basketbolista specialitāte. Pēdējās trīs spēlēs Kovingtonam kopā septiņas pārtvertas bumbas un astoņi bloķēti metieni, bet februāra vidū viņš pamanījās bloķēt par sešus metienus! Jā, tāpat kā Kanteram, arī Kovingtona loma samazināsies ar Nurkiča atgriešanos, tāpēc situācija Portlendā noteikti ir jāvēro.
Noteikti, ka notikumi "trade deadline" daudz ko pamainīs. Aizmainot kādu no komandas līderiem, krietni lielāka loma pavērsies pārējiem spēlētājiem, tāpēc jau tagad nepieciešams apzināt iespējamos spēlētājus, kas varētu tikt aizmainīt, lai zinātu kā rīkotos gadījumā, ja īstajā NBA notiek maiņa.