Ārons Bramlets ir viens no Latvijas basketbola "zelta laiku" kluba "ASK Rīga" galvenajiem varoņiem. Rīgā viņš ieradās ar trekniem ierakstiem CV – NCAA čempions, izvēlēts Nacionālās basketbola asociācijas (NBA) drafta otrajā kārtā, bet pirms uzvilka "armijnieku" kreklu, aizvadīja septiņas sezonas Eiropas spēcīgākajā vietējā līgā – Spānijas ACB.
"Sporta pils" aicināja Bramletu uz sarunu, kurā viņš dalījās iespaidos par piedzīvoto NBA, vēlāk Spānijā, un to, kas notika ASK laikos. Zīmīgi, ka ASK bija viņa pēdējais profesionālais klubs un karjera noslēgta 31 gada vecumā. Bramlets stāsta, kāpēc tā.
Kā sāki spēlēt basketbolu?
Kad man bija seši gadi, tēvs spēlēja koledžas komandā, tā kā ar basketbolu esmu saistīts jau no bērna kājas. Protams, paralēli trenējos arī beisbolā, amerikāņu futbolā un vēl pāris sporta veidos, bet basketbols vienmēr bijis vistuvākais. Arī mans augums tam ir kā radīts, jo jau piektajā klasē biju pāri 185 centimetriem. Ja runājam par brīdi, kad sapratu, ka noteikti vēlos kļūt par profesionālu sportistu, tad tā bija vidusskola. Biju savas komandas līderis, saņēmu dažādas individuālās atzinības arī štata līmenī, tāpēc bija tikai viens ceļš – censties izsisties līdz "augšai", kas ir NBA.
Kļuvi arī par NCAA čempionu.
Tā bija lieliska pieredze. Izslēdzām vairākas augstāk izsētās komandas un neviens neticēja, ka varam pārvarēt kaut vienu kārtu "Marta trakumā", tomēr pierādījām pretējo. "Izsitām" Kanzasas universitāti ar Polu Pīrsu priekšgalā, pēc tam Ziemeļkarolīnas, kur spēlēja Vinss Kārters, Entuāns Džeimisons un Brendans Heivūds, bet finālā uzvarējām Kentukī pagarinājumā. Teju katrā komandā bija spēlētāji, kuri vēlāk kļuva par NBA zvaigznēm. Tiesa, arī mums ierindā bija topošie NBA spīdekļi kā Maiks Bibijs un Džeisons Terijs. Bet kaut kā visas zvaigznes veiksmīgi sakrita mums par labu.
Noslēdzošajā gadā NCAA tiki iekļauts "All Pac-10" konferences simboliskajā izlasē, kas ir solīda līmeņa atzinība jaunajiem spēlētājiem, tomēr tiki draftēts vien otrajā kārtā. Vai nebija vilšanās, ka nesanāca pirmā kārta?
Pirms drafta laiks man bija grūts, kā jau tas ir jebkuram jaunajam spēlētājam. Vai tas būtu potenciālais TOP5 spēlētājs, vai tāds kā es, kurš ir uz pirmās un otrās kārtas robežas, kas patiesībā daudz ko izšķirt. Ja runājam par garantētajiem un negarantētajiem līgumiem. Visgrūtākais, šķiet, ir atklātais treniņš, kad teju visu klubu pārstāvji to skatās. Pēc katra metiena piedomā kā pakustējies, ja pirmie neiekrīt, sākās nervozitāte un tā tālāk. Es aizvadīju veiksmīgus atrādīšanās treniņus pie vairākām komandām, tāpēc arī biju nedaudz pārsteigts, ka netiku pirmajā kārtā. Bet vietu ir tikai 60 un klubi izdara izvēles, kas tiem tajā brīdī šķiet vislabākās viņu organizācijai.
Ko tu paņēmi no pieredzes Klīvlendas "Cavaliers"?
Tā bija lieliska pieredze. Būsim godīgi – tobrīd komanda nebija pārāk spēcīga, bet man paveicās, ka tur spēlēja viens no maniem bērnu dienu elkiem Šons Kemps, no kura daudz ko mācījos. Piedzīvojām daudz zaudējumus, bet arī no tā varēju iegūt ko jaunu. Bija jāpielāgojas. Katru dienu jāstrādā, lai uzlabotu savu sniegumu, vienlaikus ir daudzi pārlidojumi un laika treniņiem ir mazāk nekā universitātē, protams. Lielākā atšķirība – NBA bija kā darbs, kamēr kā students vēl varēju izbaudīt spēli. Tā es iepazinos ar profesionālo basketbolu. Protams, arī rūkiju tradīcijas bija jāievēro – visu laiku nesu citu somas un pirku daudz virtuļus (iesmejas).
Man bija daļēji garantēts kontrakts. Pats uzskatu, ka sev atvēlētajā laikā spēlēju atzīstami, bet saprotu, ka NBA ir bizness. Komandai bija slikti rezultāti un tiku atskaitīts, lai atbrīvotu vietu veterānam. Starp citu, tas notika manā dzimšanas dienā! Bet ar to bija par maz, lai paliktu sastāvā (iesmejas). Ja nopietni, tad tas bija smags trieciens. Šķita, ka visu daru pareizi un varētu komandai palīdzēt vēl vairāk, tomēr tieku atlaists. Otro sezonas daļu pavadīju CBA (līga soli zem G-līgas – red.), kur atguvu pārliecību pār sevi, jo spēlēju daudz, bija iespējas pilnveidot savu spēli un kļūt labākam. Šis posms man palīdzēja turpmākā karjerā. CBA bija soli zem G-līgas, kura ir daudzas reizes labāka nekā CBA, tici man (iesmejas). Ja G-līgā maksā maz, tad CBA algas ir vēl mazākas. Klubi pārsvarā bāzējas mazākās pilsētās, kas nozīmē, ka uz mājas spēlēm nāk daudz skatītāju. Tas bija jautri. CBA bija reizes, kad 12 stundas braucām ar autobusu. Principā tur bija jādara divas lietas – jāuzspēlē basketbols un jāpavada brīvais laiks ar komandas biedriem. Nākamajā vasarā bija sarunas ar Sietlas "Supersonics", ka jābrauc uz nometni uz "try-out", tomēr nāca labs piedāvājums no Spānijas, kuru pieņēmu.
Vai ar tādu CV – NCAA čempions un NBA drafts ar pāris spēļu pierakstu – nebija citu variantu, kur turpināt karjeru Eiropā?
Bija no Itālijas un Francijas līgām, bet tomēr Spānijas ACB ir labākā vietējā līgā Eiropā, tāpēc nolēmu doties turp. Tāpat arī bija labas atsauksmes par klubu darba organizāciju Spānijā kopumā. Ka maksā laikā un nav nekādu aizķeršanos. Amerikāņiem, kuri tikko sākuši savu profesionāļa karjeru uzreiz pēc universitātes, tas ir ļoti svarīgi (iesmejas). Bet manam aģentam bija labas attiecības ar "Valladolid" kluba vadību, tāpēc nonācu tur.
Kam bija visgrūtāk pielāgoties, pārceļoties no ASV uz Eiropu, precīzāk – tieši Spāniju?
Spāņu valodā runāju minimāli, tāpēc pirmajā sezonā biju vairāk pats par sevi. Sieva ar bērniem ar mani kopā nedzīvoja, biju kopā ar vienu citu amerikāni, kurš man palīdzēja iejusties. Zināja, kur var gan iegādāties, gan aiziet paēst vislabāko pārtiku un citas labas lietas. Protams, bija sarežģīti ar treneriem un dažiem komandas biedriem, kuri angliski nerunā gandrīz vispār, bet basketbolā pamata lietas visiem ir skaidras arī, ja nerunā vienā valodā. Tā arī tas gads pagāja, iemācījos valodu un pēc tam bija daudz vieglāk.
Un pēc tam piecas sezonas pavadīji "Pujol Lleida" sastāvā. Parasti, ja kā leģionārs esi uzturējies vienā klubā tik ilgi, noteikti jābūt īpašām atmiņām?
Tā arī bija. Klubs bāzējās mazā pilsētā, bet uz katru spēli arēna bija izpārdota. Kad pievienojos, komanda tieši gaidīja debiju ACB. Tajā sezonā vienreiz uzveicām "Barcelona" un iekļuvām arī "play-off", kas tolaik iepriekš nevienam jaunpienācējam no otrās līgas nebija izdevies. Fani bija traki, pilsētā uz ielas visi atpazina un tā tālāk. Ļoti labs laiks gan sportiski, gan sadzīviski. Ja neskaita Rīgu, mani jautrākie gadi basketbolā.
Tā nu mēs nonākam līdz tam – kādiem ceļiem nonāci Rīgā?
Lai arī Spānijā mani viss apmierināja, tomēr pienāca laiks, kad prasījās pamainīt vidi. Vēlējos jaunu izaicinājumu un aģents piedāvāja ASK variantu. Man patika treneris un spēlētāji, kuri bija sastāvā. Noteikti bija vieglāk arī komunicēt, jo visi spēlētāji un personāls runāja angļu valodā, atšķirībā no Spānijas. Tas bija kā dzīvot ASV, jo dzīves ritms un pilsēta bija ļoti attīstīta. Arī ģimenei Rīga ir laba vieta, kur dzīvot.

Ko tu zināji par Latvijas basketbolu pirms ieradies?
Neko daudz. Zināju, ka Austrumeiropā ir labas basketbola tradīcijas, tāpat arī par ASK lielajiem panākumiem 20. gadsimtā, bet kluba veidotāju sapņi bija šo spozmi atjaunot. Atzīšos, kad ierados, mani patīkami pārsteidza redzētais. Biju gaidījis, ka sportiskais līmenis būs zemāks, tomēr arī ne vadošajās komandās bija pāris puiši, kuri mani pārsteidza. Domāju, ka tolaik Latvijā neviens īsti neapzinājās, cik patiesībā daudz talanta jums bija. Tie bija laiki, kad basketbols piedzīvoja savas popularitātes augšupeju, un man ir prieks, ka varēju būt daļa no šī procesa.
Un vai zināji, kādi cilvēki ir kluba vadībā? Tomēr "Parex" bankas galvenie akcionāri.
Tas bija viens no iemesliem, kāpēc piekritu noslēgt līgumu. Proti, ja aiz kluba stāv tik turīgi un biznesā veiksmīgi cilvēki, tas ir kā papildus uzticības garants. Neviens no viņiem bez vajadzības ģērbtuvē nenāca, bet nebija īsti arī iemesla, jo mēs visu laiku uzvarējām. Tāpēc attieksme no kluba vadības un personāla korelācijā ar spēlētājiem izveidoja lielisku mikroklimatu.
Daudz tiek runāts par savstarpējo labo mikroklimatu komandā, bet kuri bija sportiskie trumpji, ar kuriem ASK "paņēma" "uz papīra" spēcīgākus pretiniekus?
Mūsu starpā laba "ķīmija" bija jau no pirmā treniņa. Mums bija Sandis Valters, kurš bija līderis gan uz laukuma, gan ārpus tā. Bija labi leģionāri un vietējie spēlētāji, kuri veiksmīgi katrs pildīja savas lomas. Vienam tā bija spēle aizsardzībā, citam gūt punktus vai realizēt tālmetienus vai izcīnīt bumbas zem groziem. Jāteic, ka ļoti paveicās, jo parasti tādu savstarpējās izpratnes līmeni, kāds bija mums, vienā sezonā nav iespējams atrast, taču mums izdevās. Kērtiss [Miledžs] spēlēja kā monstrs jau no pirmās dienas, plus zinājām, ka spēles beigās viņam droši var nogādāt bumbu rokās, jo viņš iemetīs. Tas pavilka arī pārējos un noteikti sezonas ievadā uzvara pār [Viļņas] "Rytas". Tā mums lika noticēt, ka varam uzveikt jebkuru. Vienlaikus, mums bija Sandis, kurš arī varēja izšķirt spēles likteni vienatnē, bet pārējie zināja, kas viņiem jādara. Neviens necīnījās par papildus metieniem vai neapvainojās, ja laukumā tika mazāk. Profesionālos klubos tomēr tādas lietas laiku pa laikam parādās un izlien ārā. Mums tā nebija.
Kuras spēles vēl tev īpašāk palikušas atmiņā?
Noteikti katra spēle ar "Baronu" (iesmejas). Vienalga vai tas bija "play-off" vai regulārais čempionāts, spēles intensitāte bija ļoti augsta. Atcerēsimies cik pilna bija "Arēna Rīga", kad notika Rīgas derbiji. Nemaz nerunājot par asumiem un emocijām teju katrā mačā. Un tas, kas notika ne tikai tribīnēs, bet ārpus tām. Kad fani skandēja "ASK, ASK" pirms un pēc spēlēm, kad devāmies uz ģērbtuvēm. Protams, arī spēles pret "Ventspils", kas iepriekš bija ilgus gadus dominējuši Latvijas līgā un pieteikuši sevi ULEB kausā, bija īpašas. Viņi tomēr bija pēdējās teju desmitgades Latvijas klubu basketbola flagmaņi. Atmosfēra viņu hallē bija lieliska, bet mēs vienmēr labi spēlējām tieši izbraukuma mačos, kas manā ieskatā ir labas komandas viena no pazīmēm.
Kurš bija principiālāks pretinieks – "Barons" vai "Ventspils"?
Lai arī cik liela ažiotāžā bija ap Rīgas derbijiem, es teiktu, ka ventspilnieki. Kā nekā, viņi iepriekšējos gados bija ilgstoši dominējuši un nostumt kādu no troņa vienmēr ir patīkamāk.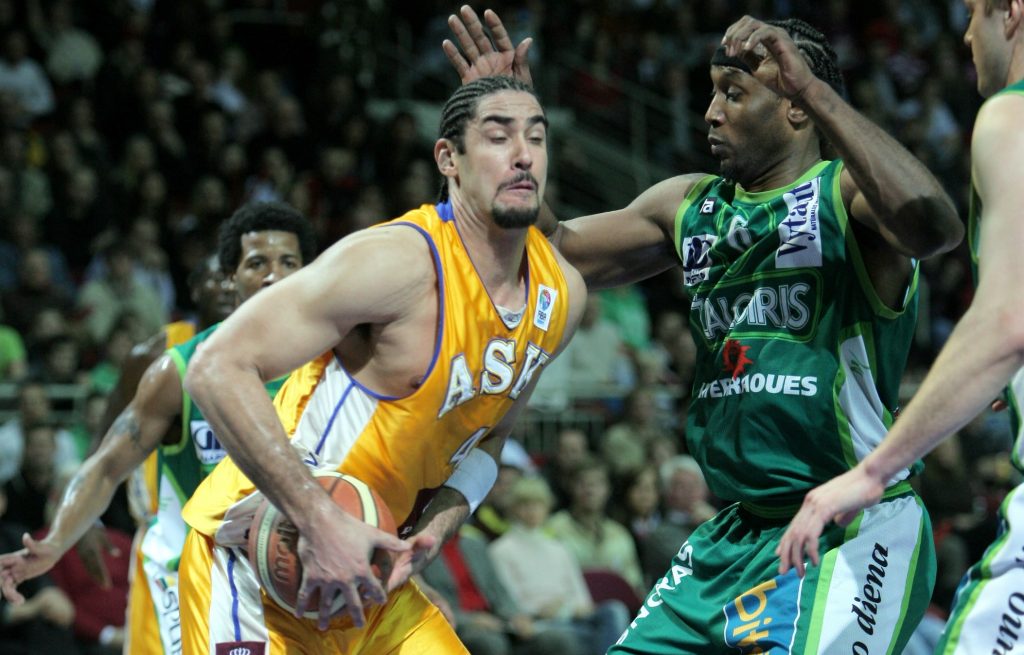 Tolaik dzīvs vēl bija Baltijas Basketbola līgas (BBL) projekts. Cik tas bija noderīgs, skatoties no spēļu prakses viedokļa un līmeņa?
Tas bija vēl viens no iemesliem, kāpēc piekritu spēlēt Rīgā. Zināju, ka spēlēsim Eirokausos un būs arī reģionālais turnīrs, kas uzreiz nozīmē lielāku konkurenci. Uz katru izbraukuma spēli Lietuvā bija pilnas tribīnes. Tas nozīmē, ka arī pret potenciāli vājāku komandu nevarēs spēlēt uz pusi spēka, jo vietējie līdzjutēji viņus dzīs uz priekšu un citi aspekti. Lietuvas vidusmēra komandas piesaistīja kvalitatīvus vietējos spēlētājus un arī ārzemniekus, tāpēc svarīgu spēļu bija pietiekami daudz. Nevarējām nemaz tā sākt dalīt – šī būs viegla, tā nē. Līmenis bija jātur katrā mačā.
Tu Latvijas līdzjutējiem esi palicis atmiņā kā centra spēlētājs, kurš apveltīts ar lielisku basketbola IQ. Tolaik tas nebija klasiskais centra prototips. Tad tomēr spēle balstījās vairāk uz fizisko spēku un parametriem. No kurienes tev tāds spēles stils?
Nav man atbildes uz šo – vienmēr tā esmu spēlējis un laikam tas ir īpašs talants (iesmejas). Kopš sevi atceros, man vienmēr vairāk prieka ir sagādājis izcīnīt atlēkušo bumbu vai iedot rezultatīvu piespēli komandas biedram, nevis pašam gūt punktus un tā esmu pieturējies pie tāda spēles stila. Esmu spēlējis vairākās komandās, kur man bijuši dažādi uzdevumi – vienā biju galvenā opcija uzbrukumā, citā man vairāk bija jāvāc atlēkušās bumbas un jāsargā groza apakša, savukārt ASK man bija jādara abi, tāpēc no sportiskā viedokļa izbaudīju laiku Rīgā visvairāk, jo spēlējām arī augstā līmenī.
Kā tu raksturotu tā laika ASK galveno treneri Ramūnu Butautu?
Ramūns bija interesants cilvēks (pozitīvi smejas). Protams, emocionāls un aktīvs, bet vienlaikus ļoti gudrs. Viņš mācēja mūs turēt nelielā spiedienā, kad tas nepieciešams, un palaist vaļā īstajā brīdī. Arī spēlēs, kad mums negāja kā vēlētos, viņš saglabāja vēsu prātu un uzticējās mums. Lai arī kā no malas reizēm izskatītos, viņam nebija uzstādījums par katru cenu kontrolēt spēli. Izšķirošajos brīžos bieži ļāva improvizēt un tas radīja atgriezenisku saiti. Kad vajadzēja, viņš nobļāvās un uzzīmēja kombināciju, kuru izpildījām tieši tā kā viņš prasīja, un bija reizes, kad ļāva spēlētājiem izlemt ko un kā darīt. Esmu spēlējis Slavas zālē iekļauta trenera vadībā un zinu, ko nozīmē laba basketbola komandas vadīšana un Ramūnam bija visas kvalitātes.
Kādi bija bonusi par LBL titula izcīnīšanu?
Jā, tas arī bija ļoti labi (iesmejas). Precīzāk neatceros, bet man laikam bija 20% no gada algas – ļoti solīdi. Pirms sezonas gan nebija liela pārliecība, cik reāli to ir iegūt, bet tas noteikti nebija galvenais motivācijas avots. Tas bija patīkams bonus, kā arī to sauc.
Kuru spēlētāju Latvijā tev bija visgrūtāk segt?
Lielākais "alfa tēviņš" bija mūsu komandā – Torijs Bragss (iesmejas). Viņš tiešām bija sasodīti spēcīgs un treniņos to izjūtu kārtīgi. Bija viens puisis no "Rytas", kura vārdu neatminos, un, protams, Demetriuss Aleksandrs [no "Barons" – red.]. Viņš tolaik bija perfekts garā gala spēlētājs šīs dienas NBA standartiem, jo var izdarīt visu, ko šodien prasa no centra – iznākt uz tālmetiena līnijas un atbrīvot groza apakšu. Pats arī varēja realizēt tālmetienu. Vienlaikus viņš nekautrējās arī spēlēt ar muguru pret grozu. Viņš laukumā darīja visu.
Latvija ir maza un profesionālo basketbola komandu arī nav daudz. Kādas tev bija attiecības ar leģionāriem no citiem klubiem? Nereti amerikāņi no pretinieku komandām draudzējas.
Kad izgājām ar komandu atpūsties kādā nakts lokālā, tad, protams, sasveicinājāmies ar viņiem, parunājām un attiecības bija normālas. Bet pārāk ar to neaizrāvāmies, jo mums pašiem savā iekšienē bija labas attiecības, līdz ar to meklēt draugus no citām komandām īsti nevajadzēja (iesmejas). Bet dzirdēts, ka amerikāņiem nereti tā notiekot, it īpaši mazākās valstīs.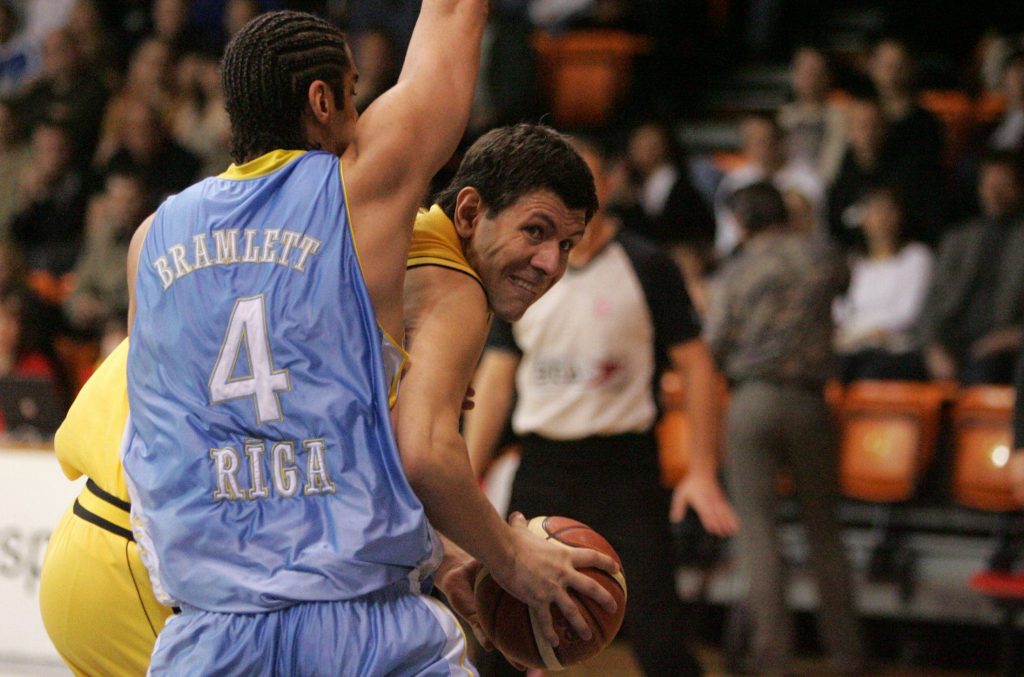 Ko tu varētu teikt par latviešu mentalitāti?
Par latviešiem vienmēr esmu teicis – ir daudzas jaukas personības, bet lielākā daļa ir vēsi. Reizēm grūti izprotami ("tough"), bet nepiekāpīgi. Un to jutu no komandas biedriem, kad viņi cīnījās katrā treniņā. Arī cilvēkus, kurus iepazinu, redzēju, ka katrs no viņiem iet dzīvē cauri kādām savām grūtībām, bet sakož zobus un izdara, kas jāizdara. Latvijā cilvēki noteikti ir mazāk atvērtāki nekā Spānijā, bet man ar to problēmu nebija.
Aizvadīji labu pirmo sezonu ASK un noteikti bija vairāki piedāvājumi, kur turpināt karjeru. Kāpēc nolēmi palikt Rīgā?
Bija piedāvājumi no Serbijas un Francijas, kā arī atgriezties Spānijā. Tāpat arī no Krievijas, bet tas nebija tik finansiāli ievērojami lielāks, lai uz ko tādu parakstītos. Man vienmēr galvenais bijis nevis atalgojums, bet gan dzīves kvalitāte un loma komandā. Rīgā viss mani apmierināja – gan līmenis, kurā spēlējām, kas bija ULEB kauss [pēc spēka otrais spēcīgākais Eiropas klubu turnīrs – red.], tā pati Baltijas līga un, protams, mērķis aizstāvēt izcīnīto titulu, gan arī finansiālie nosacījumi. Turklāt, tiem leģionāriem, kuri no ASV pārceļas uz karjeru Eiropā, divus gadus pēc kārtas izcīnīt kāda vietējā čempionāta trofeju nemaz nav tik bieža iespēja. Neredzēju iemeslu pamest ASK.
Kad tikāties otrajā sezonā vasarā, vai bija tās pašas sajūtas, kādas gadu iepriekš, kad uzsākāt darbu?
Sākumā jā, vienīgi bija jūtams, ka komandā nomainījās divi spēlētāji. Klāt nāca Dveins Broilss un Ēriks Sanderss, kuri mums bija jāuzņem kolektīvā un jāparāda viņiem mūsu stils. Tas vienmēr prasa laiku un pacietību. Pats mocījos ar muguras traumu, tāpēc sagatavošanās posms man bija saraustīts. Nevarēju trenēties tik daudz, cik gribēju. Bija brīži, kad šķita, ka varu pat vairāk, bet ārsti neļāva. Neskatoties uz to, centos darīt visu, lai palīdzētu komandai.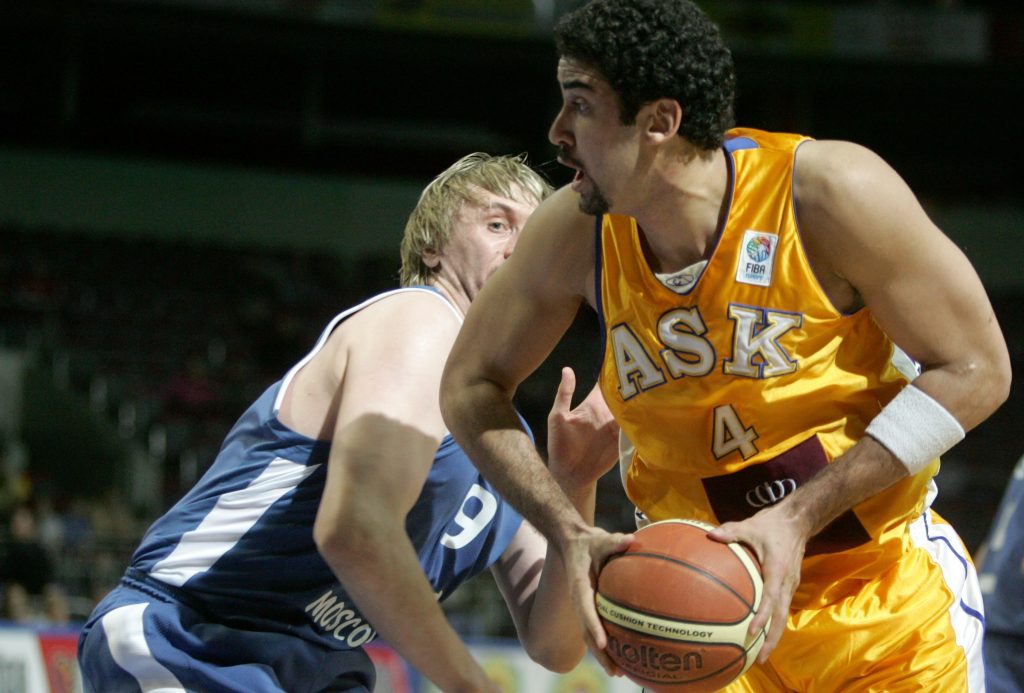 Visiem zināms, ka ASK klubs beidzās ar bankrotu, bet otrajā sezonā jau laicīgi bija signāli, ka briest problēmas. Kad jūs kā spēlētāji sākāt just, ka kaut kas tomēr nav labi?
Principā jau sezonas pirmajos mēnešos bija tāda sajūta, ka kaut kas nav labi, bet mēs tāpat līdz galam neko nezinājām. Runas un baumas ir vienmēr un tā es tās arī tolaik uztvēru, koncentrējoties saviem tiešajiem uzdevumiem – basketbola spēlēšanai. Turklāt, personīgi nevaru sūdzēties – man algas maksāja vairāk vai mazāk laikā, bet beigās neko parādā nepalika. Protams, dodoties uz treniņiem vai spēlēm, jūti, ka atmosfēra nav tāda kā agrāk. Jūti, ka kaut kas nav tā, bet kluba finansiālās lietas mēs nekādi nevaram ietekmēt un tāpēc nācās ar to samierināties. Bija spēlētāji, kas sezonas laikā sāka braukt prom, nāca vietā citi, arī man bija piedāvājumi, bet es paliku līdz galam, jo gribēju "atstrādāt" savu līgumu. Neskatoties uz izveidojušos situāciju, ticēju, ka varam pacīnīties par zeltu tāpat, un biju kopā ar sievu un bērnu, kuriem negribēju likt atkal pārcelties.
Kā tu salīdzinātu pirmo un otro sezonu – ar ko tās atšķīrās?
Pirmā sezona bija kā sapnis jau no paša sākuma. Protams, ar saviem izaicinājumiem un grūtībām, bet izcīnīt Latvijas titulu komandai, kuru neviens nezināja, šķita fantastiski. Otrajā gadā nevienu vairāk nevarēja paņemt uz pārsteigumu, visi zināja, ka esam spēcīga komanda un attiecīgi arī noskaņojās. Paralēli tam arī lietas, kas notika ārpus korta, deva mācības un spēku turpmākā dzīvē. Ka jācīnās, neskatoties ne uz ko. Jo atminos, ka nebijām tālu, lai iekļūtu arī finālā. Nedaudz vairāk veiksmes un kas zina… Ja nesāktos finansiālās problēmas un uz vietas paliktu visi, ar kuriem bija plānots aizvadīt sezonu, tāpat arī bija daudz traumu, es domāju, ka ASK stāsts būtu daudz citādāks. Bet to mēs nekad vairs neuzzināsim.
ASK beigās izrādījās tava pēdējā profesionālā kluba pieturvieta, jo noslēdzi karjeru. Vien 31 gada vecumā…
Piedāvājumi man bija, neuztraucies. Kādam vēl likos interesants (iesmejas). Konkrēti tieši Serbijā atkal gribēja mani redzēt. Ilgi domāju, ko darīt, bet apstākļi nolika visu savās vietās. Kā jau teicu, otrajā sezonā jau no tās sākuma mani mocīja muguras sāpes, spēlēju daudz uz pretsāpju līdzekļiem un nevarēju nodemonstrēt labāko sniegumu. Pieteicās arī otrais bērns un ilgojos pēc vecākiem, kas palikuši dzīvot ASV. Biju izdedzis, ja tā varētu teikt. Atskatījos uz savu karjeru un atskārtu, ka tā bijusi pietiekami krāšņa – NCAA čempiona tituls, pieredze NBA, ilgi gadi Eiropas spēcīgākajā vietējā līgā, kā arī ASK stāsts, kur pirmajā gadā viss bija kā pasakā. Iespējams, es būtu vēlējies un arī varējis spēlēt ilgāk, tomēr neko nenožēloju. Sapratu, ka dzīvē jāpāršķir jauna lappuse un jāiet tālāk.
Un ar ko nodarbojies pēc spēlētāja karjeras un šobrīd?
Atgriezos Ņūmeksikas štatā, no kurienes esmu nācis. Mācījos par treneri un palīdzu sporta kopienai – trenēju jaunos un perspektīvos atlētus gan individuāli, gan arī grupās. Ir speciāli veidotas organizācijas, kas palīdz talantīgākajiem jaunajiem atlētiem sagatavoties nākamajam līmenim. Tā kā tālu no basketbola neesmu ticis un izskatās, ka tik drīz arī tas nenotiks (smaida).
Viņš cēla kājās Latvijas publiku, Krievijā naudu saņēma pilnās somās un iemīlēja Rīgu