Ar gada nokavēšanos, lielākoties bez skatītājiem un ar rīkotājpilsētu Tokiju ārkārtas stāvoklī ir startējušas 32. vasaras olimpiskās spēles. Tās noteikti atšķirsies no daudzām citām spēlēm, bet šajā materiālā paskatīsimies uz vienu citu svarīgu aspektu – vai visi iepriekš nosauktie apstākļi un aizvadītais laiks pandēmijā devis atlētiem lielākas iespējas krāpties un lietot dopingu? Un kā Tokijas OS rīkotāji tiks galā ar šo vēl nebūt ne izskausto problēmu pasaules sportā?
Lietotājus teju vienmēr noķer – arī pēc ilgiem gadiem…
Teikt, ka gatavošanās gaidāmajām olimpiskajām un paralimpiskajām spēlēm nav bijusi ideāla, būtu nepateikt neko. Pēc to atlikšanas pagājušajā gadā nāca vēl citi koronavīrusa viļņi, pēdējam spiežot Tokiju šī mēneša sākumā ieviest ārkārtas stāvokli. Taču viena no neskaitāmām pandēmijas sekām ir bijusi tās iespēja piedāvāt krāpties sportistiem, kuri ar dopinga palīdzību vēlas nelikumīgi iegūt konkurences priekšrocības. Jāpiebilst, ka kopš 20. gadsimta katrās olimpiskajās spēlēs ir bijuši dopinga klātbūtnes konstatēšanas gadījumi, izņemot 1980. gada vasaras olimpiskās, kuras norisinājās PSRS teritorijā, Maskavā. Tās oficiāli kļuva par vienām no "tīrākajām" mūsdienu sporta vēsturē – Maskavā netika konstatēts neviens pozitīvs antidopinga tests. Vēlāk gan gaismā nāca daudzi interesanti fakti. Proti, atklājās daudzas dopinga lietošanas piesegšanas epizodes.
Vācijas Demokrātiskās Republikas dopinga impērija – krievi nebija pirmie
Tā kā pastāv atpalicība starp jaunu sniegumu uzlabojošu preparātu nonākšanu sportā un uzticamu testu izstrādē, ir pieejams 10 gadu retrospektīvs testēšanas periods. Proti, kad sportistu asins / urīnu ņemtie paraugi laboratorijās glabājas vēl vismaz 10 gadus. Tas jautājumus par to, kurš tieši ir "tīri" uzvarējis, atstāj uz veselu dekādi.
Tā piemēram – kopš 2012. gada Londonas OS dopinga lietošanā pieķerti 143 atlēti, no kuriem 42 bijuši medaļu ieguvēji (no tiem 13 zelta) un gandrīz puse gadījumu atklāti, izmantojot retrospektīvo testēšanu pēc vairākiem gadiem. Iepriekš šis logs bija astoņu gadu periods, bet tagad tas palielināts. Atgādināsim, ka tieši Londonā ņemtajās analīzēs latviešu tāllēcējai Inetai Radēvičai atrastas anaboliskā steroīda oksandrolona pēdas un par diskvalifikāciju tika paziņots sešus gadus vēlāk. Tas viņai maksāja Latvijas Vieglatlētikas savienības (LVS) prezidentus amatu, no kura viņa atkāpās.
Protams, ka WADA (Pasaules antidopinga aģentūra), kura tika izveidota 2000. gadā, pieliek lielas pūles, kā arī finansu un cilvēku resursus dopinga apkarošanai. Testu precizitātes un sistēmas uzlabošanai vien 20 gadu laikā ir ieguldīti aptuveni 70 miljoni eiro, savukārt dažādos pētījumos par dopinga lietošanas ietekmi un novēršanu, kā arī to pēdu slēpšanu, iztērēti nepilni trīs miljoni eiro. Humora pilnai atkāpei – Latvijas valdība pasūtīja pētījumus 500 tūkstošu apmērā par Covid19 radītajām sekām uz sabiedrību, kur desmitiem lappušu sastāvēja no dažādām ēdienu receptēm, bet pilnie pētījumu dokumenti vēl aizvien plašākai publikai tā arī nav prezentēti.
Neskatoties uz WADA lielajiem pūliņiem, katrā olimpiādē "iekrīt" pa kādam krāpniekam, tostarp medaļas izcīnījušie sportisti. Un ne tikai. Katru gadu attīstās ne vien dopinga apkarotāju kapacitāte un iespējas, bet arī krāpnieku izdoma un tiek izdomātas aizvien jaunas metodes.
Pandēmija ir krāpnieku draugs?
WADA pagājušā gada Covid19 pirmā viļņa "pīķī" bija spiesta dramatiski samazināt ārpus sacensībām veikto testu skaitu. Proti, vairs tik bieži dopinga kontrolētāji nevarēja ierasties uz sportistu treniņnometnēm vai vienkārši kādā negaidītā vizītē (kaut visas vizītes tiek laicīgi saskaņotas un sportistiem par tām ir jāvienojas ar WADA jeb attiecīgi caur savas valsts antidopinga atbildīgo iestādi). Protams, sacensību laikā par to nebrīdina un ir arī citi izņēmuma gadījumi, bet medaļniekus un citus augstu vietu izcīnītājus pārbauda automātiski. Tā WADA vietnē pieejamā informācija liecina, ka 2020. gada aprīlī visā pasaulē tika ņemti tikai 578 asins / urīna paraugi, salīdzinot ar 25 219 tajā pašā mēnesī 2019. gadā. Kritums ir iespaidīgs un paver aizvien lielākas iespējas negodīgiem sportistiem.
"Veikto dopinga testu skaita dramatiskais kritums pavēra iespējas daudziem atlētiem lietot aizliegtās substances laikā, kad viņi veica gatavošanos šīm spēlēm. Tiesa, daudzi sportisti to noteikti nedarīs, arī ja viņiem parādīsies iespēja lietot dopingu un palikt par to nesodītiem. Tie, kuri jau plānoja to lietot vai lietoja, iespējams, tā bija priekšrocība. Daudzi noteikti to izmantoja un par to varēsim pārliecināties arī Tokijā," uzskata Stirlingas universitātes Skotijā antidopinga eksperts Dr. Eiprils Henings, kurš par šo tēmu ir izveidojis vairākas respektablas publikācijas.
Tiesa, pēdējos mēnešos, neskatoties uz Covid19 delta varianta straujo izplatību, WADA paziņojusi, ka dopinga kontroļu skaits atgriežas ierastajā līmenī un uz olimpiādi tie atkal būs kā ierasts vai pat vairāk, ņemot vērā iepriekšējo samazinājumu sezonas laikā. Bet apstākļi, kas saistīti ar gaidāmajām spēlēm, testētājiem apgrūtina viņu darbu daudz vairāk nekā parasti. Sportisti bieži vien ir soli priekšā antidopinga iestādēm, it īpaši lielu forumu laikā, un lielākā daļa dopinga sodu tiek piespriesti vairākus gadus pēc tam.
Šī iemesla dēļ gaidāmo spēļu laikā Starptautiskā Olimpiskā komiteja (SOK) ir nodevusi kontroli pār savu antidopinga programmu Starptautiskajai testēšanas aģentūrai (ITA), kas atrodas Šveicē, lai gan viņi uzstāj: "Mēs paliekam atbildīgi par dopinga kontroles nostiprināšanu un krāpnieku pieķeršanu un sodīšanu". ITA, kuru pārraudzīs WADA, un sadarbosies ar vietējām antidopinga aģentūrām un Sporta arbitrāžas tiesu (CAS), sevi raksturo kā neatkarīgu bezpeļņas organizāciju un apgalvo: "Mēs vadīsim visplašāko antidopinga programmu Tokijai 2020, kas jebkad ir ieviesta olimpisko spēļu vēsturē."
Tokijā ITA 24 cilvēku vadītā komanda uzraudzīs 250 dopinga kontroles virsniekus (DCO) un aptuveni 700 pavadoņus, kuri paziņo sportistiem par testu veikšanu un pavada viņus dopinga kontroles stacijās. Aptuveni puse no tiem būs pārstāvēti no Japānas Antidopinga aģentūras (JADA), bet otra puse no citām valstīm. Paredzams, ka spēļu laikā viņi savāks aptuveni 5000 urīna un asins paraugus no vairāk nekā 11 000 olimpiešu un vairāk nekā 4000 paralimpiešu kopas.

Bizness kā ierasts
"Mūsu darbību pielāgošana mainīgā Covid19 ietvara dēļ patiešām ir sarežģīta, taču, atliekot spēles, mēs varējām iegūt svarīgu pieredzi, kā rīkoties šajos apstākļos un tiem labāk sagatavoties," teikts ITA rakstiskajā paziņojumā.
Tajā arī piebilsts: "Dopinga kontrole tiks veikta, pilnībā ievērojot atbilstošos drošības un higiēnas pasākumus, kas aprakstīti attiecīgajā SOK rokasgrāmatā, un stingri ievērojot visus Japānas veselības aizsardzības iestāžu pieņemtos noteikumus, lai aizsargātu gan sportistus, gan antidopinga darbaspēku." Organizācijas pārstāvji arī izteicās, ka "pandēmijas veselības un drošības prasības nepiedāvā iemeslus, kādēļ sportistiem vai federācijām nevajadzētu sekot līdzi dopinga kontrolei, un jebkāda dopinga kontroles procesa neievērošana var izraisīt antidopinga noteikumu pārkāpumu".
"Parasti antidopinga pasākumi šāda līmeņa sporta forumos ir ļoti labi izplānoti, un Tokijai ir bijuši lieli resursu izdevumi, lai tam būtu gatavi," sacīja Dr. Henings, kurš piebilda: "Bet, kā mēs uzzinājām no Sočiem un Krievijas valsts atbalstītās dopinga sistēmas, krāpnieki var būt droši tieši ne par ko, ja jums ir noteiktas un saskaņotas pūles, lai atklātu nelikumības."
Un Krievija cieš vēl līdz šai dienai. Tai aizvien nav ļauts startēt zem sava karoga, tā vietā tās komanda ir nosaukta par Krievijas olimpisko komitejas (ROC) komandu, tiek izmantots SOK karogs, bet himnas vietā skanēs Čajkovska mūzika.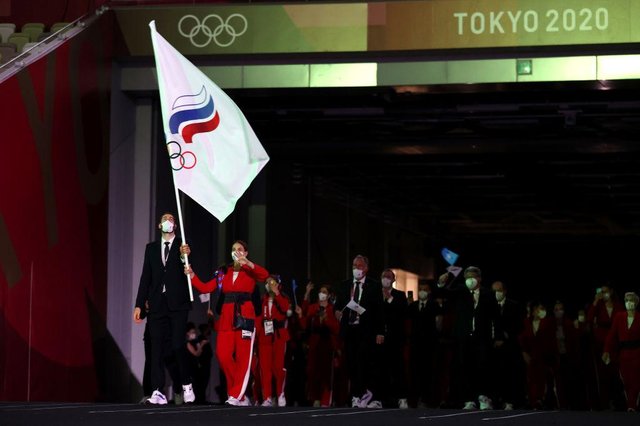 Tiesa, WADA prezidents Vitolds Baņka izteicies: "Krievijas puse ir tikusi sodīta un tas savā ziņā ir noslēdzis vienu epopeju. Ir izveidots ceļvedis Krievijas Antidopinga aģentūrai (RUSADA) darba atsākšanai. Ja viņi ievēros noteikumus un RUSADA paliks neatkarīga no politiskās valdības, tā atgriezīsies starptautiskajā sistēmā. Bet tas nav jautājums par nākamajām nedēļām vai mēnešiem. Šis process noteikti prasīs ilgāku laiku." Un Krievijas puse spēlējusi paslēpes ar starptautiskajiem partneriem arī pēc tam, kad 2016. gadā ar viņiem iznīcinošo paziņojumu (pētījumu) klajā nāca Ričards Maklārens. Tas notika pirms pāris gadiem, kad WADA bija ieradusies RUSADA mītnē Maskavā, bet krievu puse tā arī savus kolēģus neielaida laboratorijā, aizbildinoties, ka viņiem nav attiecīgais aprīkojums, kāds ir pieņemts pēc Krievijas Federācijas likumdošanas… Komiski, vai ne?
Tāpat Baņka sacīja, ka šobrīd WADA ir nodevusi attiecīgajām institūcijām 607 lapaspušu garu dokumentu paketi, kurā ir aizdomas par dopinga lietošanu krievu sportistu vidū. Un par to WADA prezidents paziņoja vien pāris dienas atpakaļ, no kā var secināt – Krievija ne līdz galam vēlas sadarboties un savu vainu aizvien noliedz. No otras puses – ne visi sportisti ir bijuši pakļauti dopinga sistēmai, turklāt tas ir arī bizness. Krieviem tāpat būs pietiekami daudz sportistu, kuri cīnīsies par medaļām un sacensību konkurence līdz ar viņu pilnīgu izslēgšanu kristos, tāpat arī televīzijas translāciju ienākumi. Jo Krievijā, pateicoties propagandas mašinērijai, liela daļa iedzīvotāju aizvien to uzskata par Rietumu izrēķināšanos un klaji ignorē diskvalifikācijas faktu. Bet nauda jau nesmird…
Un tieši krievu sportisti ir bijuši pirmie, kas publiski kritizējuši dopinga kontroles procesu. Tā paukotāja Sofija Veļikaja neesot gulējusi teju diennakti dopinga pārbaužu dēļ. Veļikajas pārbaude, kuru viņa izturēja galvenajā arēnā uzreiz pēc sacensībām, dopinga virsniekiem nederēja nepietiekamā parauga blīvuma dēļ. Kā apgalvoja viņas fizioterapeits, tas nav nekas ārkārtējs vai pārsteidzošs, jo viņa pēc tādas slodzes praktiski nebija ēdusi. Tādējādi pārbaudītājiem nepatika arī otrais tests, kas raisīja neapmierinātību sportistei un visai delegācijai. Tāpat sūdzības bijušas divām mākslas vingrotājām, bet vēlāk arī no citu valstu pārstāvjiem. Bet tas ir normāli un katrās spēlēs šādi precedenti ir.
Neatbilstības atsevišķu valstu sistēmās
Kā vienmēr, spēja un vēlme noķert krāpniekus ir ļoti atšķirīga atkarībā no tā, cik labi ir attīstītas un finansētas nacionālās antidopinga programmas. Ja Krievijā antidopinga aģentūra apzināti nav sadarbojusies vai sūtījusi maldīgus analīžu paraugus, tad citviet to kapacitāte vienkārši ir ļoti ierobežota vai ir pārāk liels slogs esošajām aģentūrām, ņemot vērā testējamo sportistu skaitu.
Dr. Henings arī norāda uz mērogu problēmām: "Tātad, ASV ir izveidota sava sistēma, taču milzīgais tās iedzīvotāju skaits un to sportistu skaits, kas varētu izveidot nacionālo vai olimpisko komandu, ir tik liels, kas nozīmē, ka testēšanai jābūt gan dziļai, gan plašai, lai tā būtu efektīva. Tas pats attiecas, piemēram, uz Ķīnu."
Viņš turpināja: "Ņemot vērā to, kā dažos sporta veidos izvēlas sportistus, kuri brauks uz olimpiskajām spēlēm (piemēram, vieglatlētikā un peldēšanā ir kvalifikācijas sacensības, kur nereti notiek negaidīti rezultāti un iepriekš maz zināmi sportisti var kvalificēties olimpiādei – red. piezīme), iespējams, ka tie, kas iekļūst olimpiskajā komandā, netika regulāri vai vispār iepriekš pārbaudīti ārpus sacensībām. Ir arī stratēģiska pieeja daudzās vietās, kur dažu sporta veidu sportisti tiek pārbaudīti daudz biežāk nekā citi. Dispersijas ir lielas, un pētījumi liecina, ka sportisti zināmā mērā apzinās to atšķirības un sekas. Citi to arī izmanto savā – negodīgā labā."
Īsāk sakot, dopinga apkarošanas iestādes un to realizētās sistēmas vienmēr cenšas attīstīties, lai neatpaliktu no dopinga lietotājiem. Kaut arī Covid19 pandēmija ir nedaudz mainījusi kopējo ainu un kā materiāla sākumā minēts, arī devusi iespējas negodīgajiem atlētiem vairāk krāpties, galvenās problēmas paliek nemainīgas un, visticamāk, tās tik drīz netiks izskaustas.
Ja skatāmies statistiski, tad kopš dopinga lietas tiek oficiāli uzskaitītas olimpiādēs kopš 1972. gada, tad līdz pat Atēnām (2004) lielākais dopinga lietošanā pieķerto atlētu skaits bija 15 Sidnejā (2000), savukārt rekords ir Londonā (2012) – 135, kur gan lauvas tiesu "paņem" Krievijas sportisti (kopskaitā 46 diskvalificētie). Saprotams, ja iepriekš tiktu izveidots augstāk minētais 10 gadu logs, kā arī WADA tiktu izveidota ātrāk, ļoti iespējams, ka daudzi šī brīža varoņi un viņu sasniegumi tiktu svītroti no vēstures grāmatām. Jo ja jau pat mūsdienās krāpnieki nereti spēj viltībā un iespējās pārtrumpot kontrolējošās iestādes.
Arī uz šīm spēlēm dažādu pārkāpumu dēļ nav ieradušies savu disciplīnu medaļu pretendenti. Neskaitot daļu krievu sportistus, Tokijas olimpiskajā vieglatlētikas stadionā neredzēsim ASV sprinta cerības Kristianu Kolmenu un Šekerri Ričardsoni, kā arī vidējo distanču skrējēju Šelbiju Hulihanu. Visiem bijis ļoti interesants iemesls piešķirtai diskvalifikācijai. Kolmenam, jo viņš izlaida trīs ārpus sacensībām noteiktos dopinga testus, Ričardsone uzsmēķēja marihuānu, kaut gan uzvarēja kvalifikācijas sacensības un bija sezonas līdere, savukārt Hulihenai bija paaugstināts testerona līmenis, ko viņa paskaidroja ar to, ka bija apēdusi cūkgaļas burito…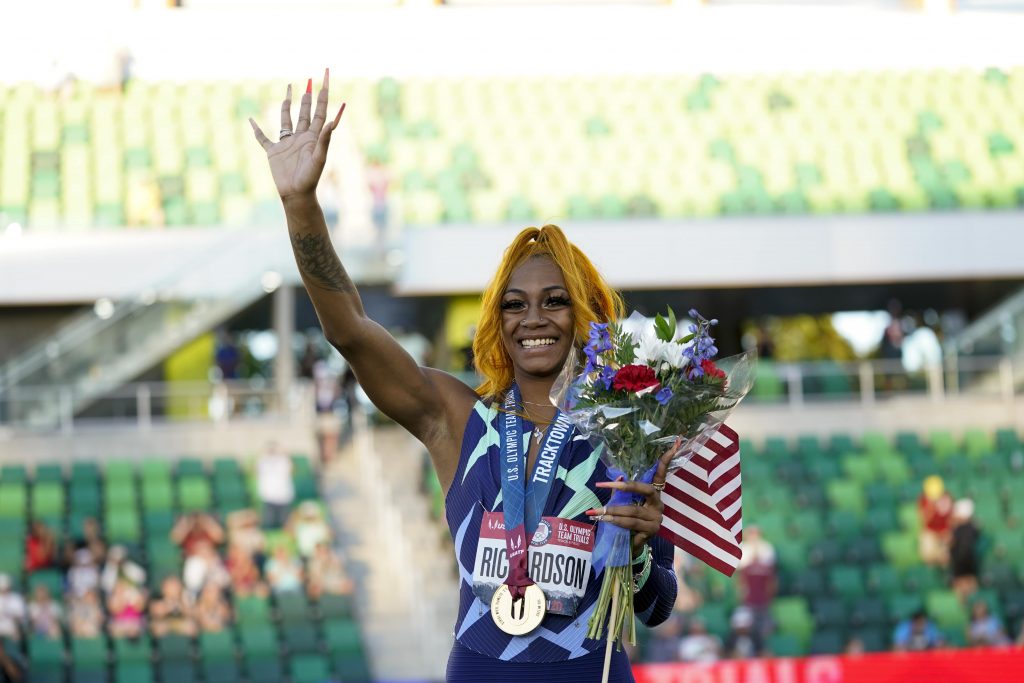 Viens ir skaidrs – profesionāliem atlētiem ir uzmanīgi jāseko līdzi savai diētai, kā arī dopinga kontrolieri nesnauž. Vai šīs spēles ieies vēsturē kā vienas no godīgākajām? To noskaidrosim uzreiz pēc 8. augusta vai pēc… vairākiem gadiem, ņemot vērā mūsdienu tehnoloģiju iespējas un krāpnieku izdomu un finansējumu negodīgām darbībām.
Dārgākās spēles vēsturē, bez seksa, bet ar ierobežojumiem – startē "Tokija 2020"