Gaidāmā basketbola sezona tuvojas un sarosījušies kā Latvijas klubi, tā arī spēlētāji, kuri atrod aizvien jaunas darba vietas. Tāpat vasaras darbu turpina vīriešu un uzsākusi sieviešu izlase, bet 3×3 basketbolisti izcīnījuši zelta medaļas Tokijas olimpiskajās spēlēs. Tāpat šobrīd iestājies kapa klusums no Latvijas Basketbola savienības (LBS) par jaunās sporta halles būvniecības procesu, kaut gan iepriekš tās pārstāvji nekautrējās sist pie krūtīm, cik lieli malači viņi šo projektu "izbīdot" ir. Tagad nevar atbildēt pat uz ar to saistītiem jautājumiem. Piedāvājam rubriku – kas notiek basketbolā?
3×3 vēsturiskais zelts
Protams, raksts jāiesāk ar vēsturisko 3×3 vīriešu basketbola izlases triumfu Tokijas olimpiādē, kur fināla cīņā ar 21:18 tika uzveikta Krievijas Olimpiskās komitejas komanda. Iepriekš pusfinālā uzveikta Beļģija, bet ceturtdaļfinālā mājiniece Japāna, savukārt grupu turnīrā septiņos mačos izcīnītas četras uzvaras. Ceļš nebija no tiem vieglākajiem, it īpaši, ja skatāmies izcīnīto uzvaru dinamiku. Protams, var jau teikt, ka paveicās, ka pusfinālā kāja paslīdēja šī turnīra favorītiem Serbijai, kas negaidīti finālā netika pēc iespaidīga grupu turnīra, kur tā nezaudēja ne reizi. Bet tomēr latviešu zēni – Agnis Čavars, Nauris Miezis, Kārlis Lasmanis un Edgars Krūmiņš savu darbu padarīja un pieradīja, ka ir pasaulē labākā 3×3 basketbola komanda.
Zīmīgi, ka klātienē apsveikt puišus bija ieradušes simtiem cilvēku, tomēr neviena no valsts augstākajām amatpersonām – nedz valsts prezidents, nedz premjers ar savu klātbūtni olimpisko zeltu ieguvušos sportistus nepagodināja. Bija vien Izglītības un zinātnes ministre. Toties bija bijušais valsts, un esošais LBS prezidents Raimonds Vējonis.
Vairāk par puišu panākumu un ceļu līdz tam variet lasīt šajā rakstā.
Neviens zem tilta negulēja, bet visu sasniedza paši – 3×3 komandas pelnrušķītes stāsts. Bez klišejām
LBS klusē un nespēj atbildēt uz jautājumiem
Raksts jāturpina ar nelielu LBS kaunināšanu. Proti, šo rindu autors jau pirms mēneša (un kopā vēl divas atgādinājuma reizes) aizsūtījis oficiālu e-pastu ģenerālsekretāram Kasparam Ciprusam (viņš pats lūdz interesējošās tēmas sūtīt elektroniski, jo laikam baidās kaut ko ne tā pateikt telefona sarunas laikā, kaut gan jautājumi ir bez zemtekstiem – konkrēti par LBS darba sfērām un viņu atbildībā esošajiem jautājumiem) par basketbola halles būvniecības projektu, tā attīstību un turpmāko LBS lomu tajā, uz kuru nav saņemta atbilde, aizbildinoties, ka darba esot tik daudz un viņš neesot robots. Tas gan šķiet dīvaini, ka ģenerālsekretārs nevar atbildēt uz astoņiem jautājumiem, turklāt naudu LBS nav savākuši paši, bet gan tam ir piešķirts publiskais finansējums jeb nodokļu maksātāju nauda vairāk nekā 13 miljonu eiro apmērā. Jāsaprot, ka tā nav viņu no privātajiem sponsoriem iegūta nauda, ar kuru pēc idejas varētu rīkoties kā grib. Un viens no jautājumiem ir tieši par to – cik LBS piesaistīja privātos līdzekļus, ko stāstīja, ka izdarīs. Šī raksta tapšanas laikā vēstule tiks nosūtīta arī LBS prezidentam Raimondam Vējonim. Cerēsim, ka atbilde atnāks.
Viens no jautājumiem arī bija par to, vai LBS Padomes locekļu privātie uzņēmumi varēs startēt publiskajā iepirkumā par halles būvniecību vai kādu elementu apkalpošanu. Klīst baumas, to varētu darīt Edgars Šneps, kura SIA "Sporta halle" un kurā viņš ir patiesā labuma guvējs, nodarbojas ar basketbola grīdu ielikšanu un citiem pakalpojumiem. Iespējams, varētu izveidot arī citu uzņēmumu, kur šo varētu paņemt kā apakšuzņēmumu, tā runā tramvaja pieturās. Jāatzīmē gan, ka tās ir tikai baumas, tomēr LBS ģenerālsekretāram tad vajadzētu tās kliedēt. Šis aizdomīgais klusums ne par ko labu neliecina. Ja nebūs tā, tad nebūs, štrunts ar to visu. Bet publiska nauda un publiski projekti ir stāsts, par kuru nevar mesties virsū necaurspīdīguma ēna. Visādi citādi LBS amatpersonas vai pēc saviem ieskatiem izvēlēties ar kādu runā vai nerunāt.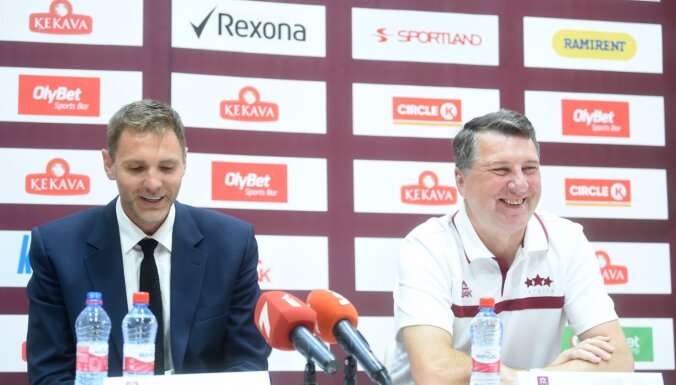 Leģionāru kustība
Teju ik dienu medijos parādās ziņas par latviešu basketbolistu atrastiem jauniem klubiem. Viens no vasaras skaļākajiem darījumiem bija Rodiona Kuruca atgriešanās Eiropā un arī ne Eirolīgas klubā, kā visi gaidīja. Aizvadījis pēdējos trīs gadus NBA, pēdējā sezonā Kurucs tika aizmainīts pat divas reizes, bet nu nolēmis pievienoties slavenajam Belgradas "Partizan", kuru vadīs leģendārais treneris Zeļko Obradovičs. Kurucam līgums ir uz trīs sezonām un pēc katras no tām viņš atkārtotu NBA piedāvājumu gadījumā var to lauzt.
Tā Jānis Strēlnieks noslēdzis vienošanos ar Kauņas "Žalgiri" un turpinās spēlēt Eirolīgā, kas viņam jau būs sestā secīgā sezona kontinenta spēcīgākajā turnīrā. Iepriekšējās divas viņš aizvadīja Maskavas CSKA rindās, pērn sasniedzot Eirolīgas "Final Four", kur palika ceturtie. Strēlnieks sezonas garumā laukumā vidēji pavadīja 13,8 minūtes, izceļoties ar 4,4 punktiem un 1,6 rezultatīvām piespēlēm, tikmēr VTB Vienotajā līgā viņam statistika nedaudz labāka – 17,6 minūtes, 6,6 punkti un 2,6 rezultatīvas piespēles.
Lietuvas klubu rindās būs redzami arī trīs citi leģionāri – tā Kaspars Bērziņš pievienojies Panevēžas "Lietkabelis', kas startē arī pēc spēka otrajā spēcīgākajā starptautiskajā turnīrā ULEB Eirokausā, bet pērn komanda izcīnīja Lietuvas čempionāta bronzu. Pērno sezonu viņš iesāka Ogrē, bet decembrī viņš pārcēlās "Šiauliai", kura sastāvā 23 spēlēs caurmērā guva 11,7 punktus un izcīnīja 4,7 bumbas zem groziem. 35 gadus vecais Bērziņš tālmetienus realizēja ar 35,9% precizitāti. Vēl viens spēlētājs kaimiņos būs Kristaps Gludītis, kurš panācis vienošanos ar  Pasvales "Pieno Žvaigždes". 25 gadus vecais aizsargs aizvadītajā sezonā spēlēja Igaunijā, Rakveres "Tarvas' rindās, kur apvienotās līgas ietvaros vidēji izcēlās ar 16,2 punktiem, savukārt Igaunijas čempionātā ar 18,3 punktiem. Līgumu ar Kedaiņu "Nevežis" noslēdzis Rihards Kuksiks, kurš pērn spēlēja Ogrē un vidēji spēlē izcēlās ar 13,8 punktiem.
Klāvs Čavars no VTB Vienotās līgas Minskas "Tsmoki" pārcēlies uz Polijas augstākās līgas komanduBidgoščas "Astoria".  Vienotajā līgā Čavars vidēji 14 minūtēs atzīmējās ar 3,3 punktiem un 2,8 atlēkušajām bumbām, bet FIBA Čempionu līgā viņam vidēji 17,2 minūtes, 6,3 punkti un 3,8 atlēkušās bumbas. Sezonu veiksmīgāk centram patraucēja savainojums.
Dairis Bertāns karjeru turpinās Spānijas ACB līgas klubā Seviļjas "Real Betis", kuru savulaik pārstāvējis Kristaps Porziņģis. Līgums noslēgts uz vienu sezonu. 31 gadu vecais Bertāns aizvadītās divas sezonas pavadīja Maskavas apgabala "Khimki", kas startēja ULEB Eirolīgā un VTB Vienotajā līgā. Eirolīgā pērnajā sezonā Bertāns vidēji izcēlās ar 5,4 punktiem (tālmetienus realizējot ar 34,8% precizitāti), kamēr VTB viņa kontā caurmērā 6,9 punkti (39,1% 3p.) un 2,5 rezultatīvas piespēles. Jāatzīmē, ka "Real Betis" gaidāmajā sezonā startēs tikai ACB turnīrā.
Spānijā spēlēs arī Jānis Bērziņš, kurš spēlēs "Baxi Manresa" klubā. Aizvadīto sezonu viņš pavadīja Polijas komandā "Zielona Gora", kas spēlēja arī VTB Vienotajā līgā un iekļuva "play-off". Uzbrucēja kontā 9,2 punkti un 5,2 atlēkušās bumbas. Jāatzīmē, ka viņš kļuva arī par Polijas vicečempionu. Šajā pašā klubā spēlēs arī 19 gadus jaunais talants Mārcis Šteinbergs. Spēka uzbrucējs noslēdzis līgumu uz divām sezonām ar kluba iespējām pagarināt vēl uz tikpat. Tāpat arī ACB līgas klubs "Murcia" pavēstījis, ka tas ir izmantojis iespēju pagarināt līgumu ar latviešu garo spēlētāju Rinaldu Mālmani uz nākamo sezonu. Tiesa, Mālmanis pērn ne ar ko ievērības cienīgu neizcēlās, 13 spēlēs vidēji laukumā pavadot 5,5 minūtes. Varbūt šogad.

Spānijas pēc spēka otrajā līgā spēlēs vēl divi latvieši – Dāvis Geks un Kaspars Vecvagars. Geks pēc sezonas Liepājā pievienojies, kur bija vienības līderis un izcēlās ar vidēji 14,2 punktiem, tagad spēlēs "UEMC Real Valladolid". Savukārt Vecvagars pievienojies Markam Gazolam piederošajam klubam "Girona". Arī pērn viņš spēlēja šajā līgā un vidēji izcēlās ar 10,9 punktiem. Tikmēr Kaspara tēvs, bijušais Latvijas vīriešu izlases galvenais treneris Arnis Vecvagars pēc vairākiem gadiem Kazahstānā spēris soli augstākā līmenī, pievienojoties Ukrainas Superlīgas komandai "Mykolaiv". Tāpat Ukrainā spēlēs centrs Lauris Blaus un aizsargs Toms Leimanis, kuri abi pievienojušies Odesas klubam. Blaus pērn spēlēja Igaunijas komandā "Parnu Sadam", vidēji izceļoties ar 9,9 punktiem un 5,9 atlēkušajām bumbām, savukārt Leimanis pārstāvēja VTB līgas klubu Minskas "Tsmoki", kur vidēji guva 8,7 punktus un atdeva 2,9 rezultatīvas piespēles.
Turcijas čempionāta jaunpienācējā "Denizli" spēlēs Rihards Lomažs. Aizvadīto sezonu viņš iesāka Eirolīgas klubā ASVEL, ko gan tās gaitā pameta un pievienojās Bundeslīgas vienībai "Gottingen", kur sevi lieliski apliecināja, vidēji gūstot 16,6 punktus. Vairāki ārzemju mediji ziņoja, ka par aizsargu ir interese arī no slavenā Stambulas "Besiktas" kluba, taču izvēle par labu kritusi ambiciozajai "Denizli". Visbeidzot NBA Vasaras līgā Orlando "Magic" rindās spēlēs Jānis Timma, kuram pieder tiesības uz latviešu uzbrucēju. Aizvadītā sezona Timmam neizvērtās pārāk veiksmīga Maskavas apgabala "Khimki" vienībā un viņš to pameta aprīļa mēnesī, tagad cenšoties tikt pie līguma NBA. Un tā kā NBA ir sācies vasaras karstākais periods un ir iespējami maiņas darījumi, Vašingtonas "Wizzards" vienība ir devusi zināt citiem līgas klubiem, ka pieejams ir arī Dāvis Bērtans. Tiesa, pagaidām vēl nav zināms, cik liela interese par snaiperi ir no citām komandām. Bertāna līgums spēkā būs vēl četras sezonas, vienā saņemot 16 miljonus USD, kas varētu kalpot par iemeslu, kādēļ liela interese no citiem klubiem nebūs.
Arī vietējie klubi rosās
Ar sastāva komplektāciju šobrīd visaktīvāk izceļas esošie Latvijas čempioni "VEF Rīga", kuri no pērnās sezonas noturējuši Emīlu Krūmiņu, Arti Ati un Kristeru Zoriku, kā arī somu leģionāru Aleksandru Madsenu. Piesaistīts arī Anrijs Miška, bet pēc ilgāka laikā komandā atgriezies pieredzējušais Māris Gulbis, kā arī Iļja Gromovs. Piesaistīti arī divi leģionāri – uzbrucējs Kvinsijs Fords, kurš aizvadītajā sezonā pārstāvēja Grieķijas līgas un Eirokausa komandu "Promitheas" un Francijas "BCM Gravelines-Dunkerque", kā arī aizsargu Džeilenu Railiju, kas iepriekš spēlēja Portugālē, kur Portu "Ferpinta" sastāvā caurmērā guva 16 punktus.
Arī gaidāmajā klubs spēlēs FIBA Čempionu līgas turnīrā, kur tas ielozēts vienā grupā ar Atēnu AEK, Sombatejas "Falco" no Ungārijas un kādu kvalifikācijas veiksminieci. Vienā no intervijām kluba prezidents Gatis Jahovičs atklāja kādas ir summas par tikšanu nākamajā kārtā: "Pagājušajā sezonā visi Čempionu līgas pamatturnīrā startējušie klubi par to saņēma 50 tūkstošus eiro, bet "VEF Rīga" tika vēl pie papildus 20 tūkstošiem eiro par otrā kārtas sasniegšanu. Šogad bonuss par dalību ir nedaudz zemāks – 40 tūksoši."
Vicečempioni BK "Ventspils" sastāvā paturējuši vairākus jaunos spēlētājus, kā arī Artūru Ausēju un Kristapu Medisu, un piesaistījuši amerikāņu aizsargu Leriju Tomasu, kurš iepriekšējā sezonā spēlēja Islandes "Thor Thori" un kopā ar to izcīnīja vietējās līgas titulu, vidēji izceļoties ar 20,3 punktiem. Tikmēr "Ogre" panācis vienošanos ar ASV basketbolistu Breilonu Reisonu, kurš iepriekš spēlēja Kanādas Nacionālajā Basketbola līgā un tika atzīts par šīs līgas vērtīgāko spēlētāju. "Valmiera Glass"/"ViA" panākusi jaunu vienošanos ar Ervīnu Jonātu, bet prom uz Igauniju devies iepriekšējās sezonas līderis Edmunds Elksnis. Par galveno treneris kļuvis Edmunds Valeiko. Aktīvi sastāvu turpina komplektēt "Liepāja", kurai šobrīd ir aktīvi līgumi ar Kārli Žundu, Robertu Krastiņu, Zigmundu Raimo, Renāru Birkānu, komandā atgriezies Pēteris Salmiņš, bet pēc četriem gadiem NCAA Latvijā atgriezies Kārlis Siliņš. Savukārt "Latvijas Universitātē" gaidāma jauno spēlētāju atlase, bet liela daļa paliks sastāvā no iepriekšējā gada.
Tikmēr "TTT Rīga" saņēmusi 450 tūkstošu eiro lielu atbalstu no vieniem šī kluba dibinātājiem "Rīgas Satiksmi". Kā rakstīts oficiālajā paziņojumā, tad "Īstenojot atbildīgu finanšu pārvaldību, kā arī nodrošinot caurspīdīgu uzņēmuma darbību, "Rīgas satiksme" 2019. un 2020. gadu ir noslēgusi ar peļņu, nodrošinot stabilu finanšu situāciju. Tas ļauj daļu peļņas novirzīt uzņēmuma līdzdibinātā basketbola kluba "TTT-Rīga" jaunajai sezonai un dalībai Eirolīgā." Tāpat zināms, ka klubs aizvien saņems finansējumu no Rīgas domes 150 tūkstošu apmērā (līdzīgi kā "VEF Rīga") un tiks piesaistīti arī privātie sponsori.
Vīriešu izlase turpina strādāt, sieviešu uzsāk
Vīriešu izlase turpina vasaras darbu jaunā galvenā trenera itāļa Lukas Banki vadībā un ir aizvadīta arī pārbaudes spēles Saldū pret Šveices valstsvienību, kur izcīnīta pārliecinoša uzvara ar 85:66. Latvijas komandas galvenais treneris Luka Banki divās spēlēs ar Šveices izlasi (sestdien komandas sacentās treniņmačā aiz slēgtām durvīm un tajā zaudēja) iesaistīja 15 no 16 komandas sastāvā esošajiem spēlētājiem (Dāvis Bertāns pagaidām trenējas individuālā režīmā. Svētdien brīvdiena tika dota Dairim Bertānam, Mārtiņam Meieram, Ojāram Siliņam un Andrejam Gražulim.
Pēc mača savu komentāru sniedza Banki: "Joprojām esam tikai sagatavošanās posma sākumā. Spēlētāji pamazām uzlabo spēles formu, iepazīst viens otru, bet vēl tālu līdz labākajai kondīcijai. Tāpēc ir nesaprašanās laukumā, tāpēc spēlētāji lūdz maiņas jau pēc dažām minūtēm. Viens no uzdevumiem šajās spēlēs bija pasargāt spēlētājus – pārāk nenogurdināt un nepakļaut traumu riskam. Šodien papildus faktors bija skatītāji zālē – citas emocijas, cita gaisotne. Nākamnedēļ būs intensīvi treniņi un vēl divas spēles. Katram atsevišķi un visiem kopā jāuzlabo sportiskā forma, jāapārstē mikrotraumas. Un gaidām iesaistāmies Dāvi Bertānu."
Jāatzīmē, ka Latvijas izlase šobrīd gatavojas 2023. gada Pasaules kausa izcīņas priekškvalifikācijas turnīram, kas tiks aizvadīts "Arēnā Rīga" (no 7. – 13. Augustam), bet pretiniekos būs Rumānijas un Baltkrievijas komandas, savukārt nākamā pārbaudes spēle paredzēta jau pirmajā augustā Valmierā pret Slovākiju. Izlasei šogad nolēmuši palīdzēt vairāki vadošie spēlētāji.
Viens no tiem bija Jānis Strēlnieks, kurš par to paudis gandarījumu: "Atgriezties valstsvienībā ir gan ļoti patīkami, gan dīvaini. Daudz laika pagājis, daudz jaunu partneru, ar kuriem iepriekš nebiju spēlējis. Cenšamies spēlēt daudz ātrāk. Gan pārvietoties, gan kustināt bumbu. Vēl esam tikai ceļa sākumā. Jāmācās būt agresīvākiem, aktīvākiem fiziskajā cīņā. Šveicieši šodien spēles sākumā parādīja, ka šādā stilā var sagādāt mums problēmas. Jābūt tam gataviem. Pašam vēl jāatgūst īstā spēles garša, jo pagājušās sezonas beigās trūka spēļu prakses un vēl esmu patālu no labākās formas."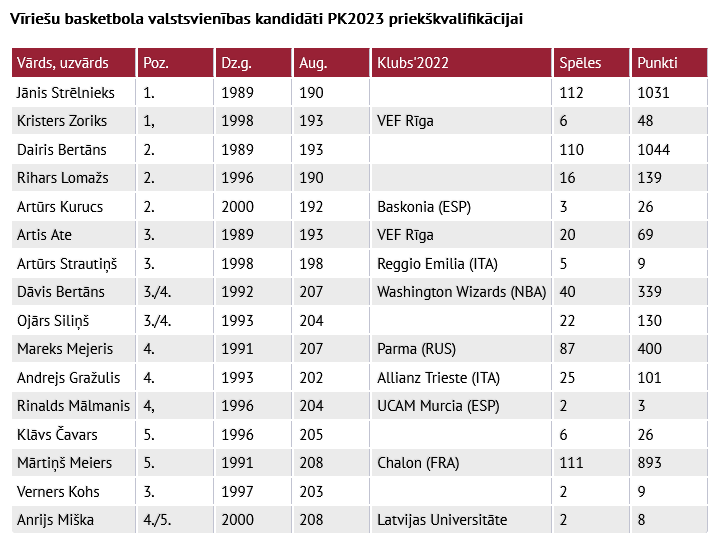 Tikmēr darbu jūlija vidū uzsākusi arī sieviešu izlase ar Gundaru Vētru priekšgalā. Divu nedēļu treniņu posmu komanda noslēgs ar pārbaudes maču pret Somiju. Pirmajā spēlē Gundara Vētras debijā sastāvā būs iespējams redzēt pieredzējušās Aneti Šteinbergu, Ievu Pulveri, Aiju Jurjāni (Putniņu) un Karlīni Nīmani, WNBA draftēto Kitiju Laksu, pēdējo sezonu pamatvērtības Ilzi Jākobsoni un Paulu Strautmani, ASV augstskolu studentes Dignu Strautmani, Aleksu Gulbi un Māru Moti, kā arī U20 izlases līderes Vanesu Jasu un Ketiju Vihmani. Individuālo plānu dēļ šoreiz treniņos nepiedalās Elīna Babkina, Kristīne Vītola un Kate Krēsliņa.
"Uzmanības centrā – komandas taktika. Strādāsim pie tā, kā gribam spēlēt aizsardzībā un uzbrukumā, spēlē ar somietēm pārbaudīsim, kas strādā un ko vajadzēs piekoriģēt, gatavojoties novembra spēlēm. Jūnija treniņos vairāk bija individuālais darbs, tagad spersim soli uz priekšu," LBS oficiālajā mājas lapā citēts Vētra.
Tāpat arī jāatzīmē Matīsa Rožlapas vadītās meiteņu U18 izlases spēles "Challenger" A grupā jeb divīzijā, kuras spēlē vienā apakšgrupā ar Horvātiju, Rumāniju, Vāciju, Portugāli un Krieviju, šobrīd esot bilancei 3-1. Noslēdzošais mačs gan pret Krieviju neļaus mūsu komandai pacelties augstāk par otro vietu, kā arī šogad netiek izspēlētas ceļazīmes uz EČ elites divīziju.