Latvijas basketbola dzīve arī vasaras mēnešos piedzīvo lielu rosību. Ja iepriekšējā rubrikas "Kas notiek basketbolā?" materiālā rakstījām par Latvijas Basketbola savienības (LBS) klusēšanu saistībā ar izslavēto (tautā un LBS elites domās) saukto "basketbola māju", tad tagad pēc vairākkārtīgiem centieniem uzzināt kādā stadijā viss ir attīstījies, beidzot saņemtas atbildes. Tās basketbola saimei nav iepriecinošas. Tāpat tapis zināms, ka LBS vismaz nodomu līmenī labprāt rīkotu Eiropas čempionātu vīriešiem 2025. gadā. Kā arī publiski nekur neizskanot, notikusi (notiek aizvien?) rosība Jūrmalā, kur tās domē parādījusies ideja atjaunot basketbola klubu. Tāpat vīriešu izlase uzzinājusi savus pretinieku pasaules kausa izcīņas kvalifikācijā, bet par karjeras beigām paziņojis moderno laiku Latvijas basketbola piemērs. Par visu pēc kārtas – kas notiek basketbolā?
Karjeru beidz izlases leģenda
30. augusta rīts pienāca ar Latvijas basketbolam skumju, bet pēdējā laikā aizvien neizbēgamāku ziņu – par profesionāla sportista gaitu noslēgšanu 39 gadu vecumā paziņoja ilggadējais izlases kapteinis Jānis Blūms. "Iepriekš, lasot profesionālu sportistu paziņojumus par profesionāla sportista karjeras noslēgšanu, vienmēr esmu domājis, kas gan liek sportistam saprast, ka profesionālajai karjerai jāpieliek punkts? Kas būs tas izšķirošais punkts manā karjerā, lai es varētu ar pilnu pārliecību pateikt – viss, man pietiek. Tagad es skaidri zinu, manā dzīvē basketbola nekad nepietiks. Šajā stāstā manis ir pieticis profesionālam basketbolam, un tas ir jāmāk pieņemt. Es cenšos. Šodien es noslēdzu savu profesionāla basketbolista karjeru," vēstīja Blūma ieraksts sociālajos tīklos.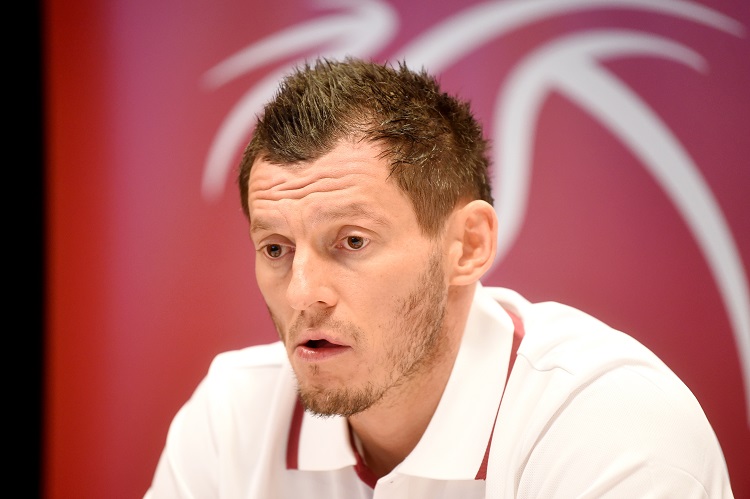 Citā intervijā viņš piebilda: "Karjeras beigas brieda jau ilgāku laiku, tomēr līdz augusta beigām vēl iekšā bija cerība, ka kaut kur ārzemēs izdosies noslēgt līgumu. Covid-19 pandēmijas dēļ situācija tirgū ir mainījusies – pieaugusi konkurence. Līdz ar to 39 gadus vecam basketbolistam no Latvijas noslēgt jaunu līgumu ir visai grūti."
Dienu vēlāk kļuva zināms, ka Blūms pāries funkcionāra darbā "VEF Rīga" vadībā, kas principā bija nojaušams jau pirms kāda laika, kad viņš kopā ar Aneti Jēkabsoni Žogotu piedalījās viņas rīkotajā preses konferencē, kurā tika paziņots, ka viņa kandidēs LBS kongresā uz prezidenta amatu. Toreiz Blūms bija kā atbalsta figūra un jau tad sarunā ar šo rindu autoru viņš izteicās: "Redzu sevi basketbolā arī pēc karjeras beigām. Un ja reiz šodien esmu šeit, nevis treniņā (tolaik viņš spēlēja tieši vefiešu rindās), tad skaidrs – kaut kas basketbolā nav kārtībā." Par to, kas nav kārtībā turpmākajās nodaļās.
Bet – kādi tad būs Blūma pienākumi? "VEF Rīga" tikko kā noslēgusi sadarbības līgumu ar Rīgas Stradiņa universitāti (RSU), kas kļūs par fārmklubu. Plānots, ka Blūms iesaistīsies arī šajā procesā. "Jānis varētu būt cilvēks, kas no mūsu puses būtu iesaistīts RSU sporta dzīvē," vienā no intervijām izteicies kluba prezidents Gatis Jahovičs. Tāpat paredzams, ka Blūms darbosies ar jaunu atbalstītāju piesaisti. Paldies Jānim par piemēra rādīšanu visu šo gadu garumā un izdošanos jaunajā dzīves posmā!
Rosība Jūrmalā?
Kā pienākušas ziņas no armēņu radio frekvences, Jūrmalas pilsētā atdzimusi ideja par kluba izveidi. Dzelzceļa stacijas pieturās dzirdēts, ka Jūrmalas dome gatava projektam no savas kabatas piešķirt aptuveni 100 tūkstošus eiro (50 pa tiešo, 50 kaut kādos citos veidos – bet legālos), bet tā būtu to gatava darīt, ja būtu drošība, ka atrastos sponsori ar aptuveni tikpat lielu finansējumu vai vismaz tajās robežās. Atgādināsim, ka 2020. gada martā klubs izjuka ar pompu. Tā laika veidojuma BK "Jūrmala" – vēlāk "SilJa" (juridiskās spēles) ģenerālmenedžeris Jānis Voins intervijā ar "Sportacentrs.com" sacīja: "Tikām baroti ar solījumiem, tagad – nostādīti fakta priekšā…" Un sīkāk viņa izteikumus varat lasīt ŠEIT.
Voins gan šajā intervijā nepieminēja, ka aizmuguriski, vismaz pēc vairāku avotu liecībām, vēlējies paņemt ne tikai pirkstu, bet arī roku. Proti, plānojis iet uz Jūrmalas domes vēlēšanām, iegūt tur ietekmi un simtprocentīgi pārvaldīt klubu. Bet tur priekšā bija (un ir), lai arī cik neviennozīmīgi vērtēts, bet tomēr politikas smagsvars Gata Trukšņa personā. Viņš to uzzinājis, ka notiek aizmuguriska plānu kalšana un pie sevis nodomājis: "A ti čo, samij umnij, da?" (tu ko, domā esi pats gudrākais?) Un piegriezis skābekli pavisam. Tāpēc tiem, kuri nezina aizkulises, Voina vaidas patiesi var likties no sērijas – stulbie politiķi, atņem sportu pilsētā un tā tālāk. Bet reālā situācija nebija tik viennozīmīga.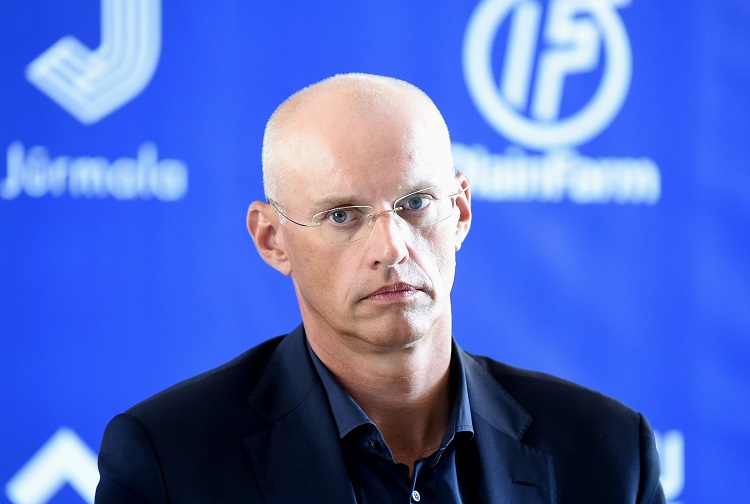 Kas interesanti – esošais LBS prezidents Raimonds Vējonis taču bija politiskais līdzgaitnieks Truksnim "Latvijas Zaļajā partijā". Un pāris mēnešus pirms Jūrmalas kluba kraha Vējonis kļuva par LBS "galvu". Formāli, protams, jo reālajā dzīvē viņš prot izrēķināt tikai to, cik Rīgas sporta skolas iztērē benzīnā, braukājot uz provincēm LJBL ietvaros. Par to vasarā bija strīds, kad LBS bez nekādām diskusijām sākotnēji vēlējās atgriezt "sporta skolas pret skolām", nevis atstāt "labākais pret labāko" esošo vecumu grupu ietvaros sistēmu. Toreiz viens no LBS valdes locekļiem šo rindu autoram sacīja: "Vējonis uzreiz saprata, cik Rīgas skolām iziet naudas benzīnā un piekrita, kā jāatgriež vecā sistēma." Bet to, ka iebilda vairākums provinču treneri, kuri saprata, ka no basketbola viedokļa jauniešiem labākais variants ir cits, Vējoņa kungs, diemžēl, nesaprot. Laikam viņš arī tika ievēlēts, lai izrēķinātu benzīna cenas un cik maksā zīmuļi ar dzēšgumijām birojā. To laikam sauc par to "administratīvo pieredzi".
Un tas ir kontekstā ar to, ka Vējonis priekšvēlēšanu laikā stāstīja anekdoti par savu politisko ietekmi. Labi, štrunts, ka viņu nesaklausa valdības gaiteņos (par to arī būs stāsts, starp citu). Viņš pat vienā no intervijām, kad viņam vaicāja, kur tad tā politiskā ietekme, sacīja: "Nu, tur jau īsti neklausās…" Bet nu ar savu partijas biedru taču varēja sarunāt kādu risinājumu, ja reiz tik politiski ietekmīgs ir bijušais valsts prezidents un ministrs? Bet nevarēja.
Lai nu kā, Latvijas basketbolam noteikti nāktu par labu vēl viena kluba un pilsētas atgriešanās uz basketbola kartes, citādi seši klubi… Paši saprotiet. Skaidrs, ka šogad vairs tur nekā nesanāks, bet attiecīgi būtu jāstrādā ilgtermiņā. Kaut izveidot LBL2 līmeņa komandu, parādīt, ka organizācijai ir tālejoši plāni, parādīt potenciālajiem naudas devējiem, ka te kaut kas būs. Atkārtošos – lai izdodas!

Vīriešu izlase uzzina pretiniekus PK kvalifikācijā
Pirmais etaps – pirms kvalifikācija pret Baltkrieviju un Rumāniju tika pārvarēts droši, tikai vienā  mačā esot nelielām šaubām par spēles gala iznākumu. Tagad bija jāgaida, kādi pretinieki mūs sagaidīs īstajā spēlē. Izloze lēma, ka Latvija spēlēs vienā grupā ar Serbiju, Beļģiju un Slovākiju. Kā saka, pēc fiasko (un tie abi, ieskaitot PK ciklu, bija fiasko) pēdējās divās lielo turnīru atlasēs, Latvijai neviena izloze nevar būt ne "laba", ne "slikta".
Pēc izlozes savu komentāru basket.lv mājas lapā sniedza arī galvenais treneris Luka Banki: "Izloze mums sagādājusi ļoti spēcīgu grupu, kurā īpaši izceļas mūsu pretiniece atklāšanas spēlē – jaudīgā Serbijas izlase. Turklāt vēl tādas viltīgas komandas kā Beļģija un Slovākija." Tiesa, par ļoti spēcīgu to būtu grūti nosaukt. Ja beļģu vietā Latvija varēja dabūt Somiju, Ungāriju vai Gruziju, tad uz "papīra" "dāvana" būtu Ungārija. Pārējās divas aptuveni tāda paša līmeņa komandas. Savukārt slovāku vietā varēja ielozēt Ziemeļmaķedoniju, kas noteikti būtu grūtāks pretinieks. Protams, viss jāskatās no konkrētās dienas un situācijas, ka arī komandu komplektācijas.
Ja Serbijas izlase liekus komentārus neprasa, tad ar slovākiem Latvija visās sešās tikšanās reizēs allaž spējusi tikt galā. Šoreiz vajadzētu vēl divas. Savukārt pret beļģiem Latvijas izlasei ir ko atriebt – atminēsimies 2013. gada EČ, kad, lai tobrīd pēc 12 gadu pārtraukuma iekļūtu Eiropas labāko astoņu komandu pulkā, bija jāuzvar Beļģija, kurai no sportiskā viedokļa neko nevajadzēja. Tomēr latviešiem bija "melnā" diena no tālās distances (5 no 29) un galarezultātā kaunpilns zaudējums ar 56:60. Tas maksāja arī ceļazīmi uz pasaules kausu. Dubultā sāpīgi.
Pirmā posma mači paredzēti trijos "logos", spēlējot mājās un izbraukumā. Kvalifikācija sāksies 2021. gada novembrī, kad latviešiem izbraukumā jāspēlē ar Serbiju, kā arī jāuzņem Slovākijas vienība. Februārī Latvijas komanda divreiz spēlēs ar Beļģijas izlasi (25. februārī izbraukumā, 28. februārī Rīgā), 30. jūnijā Rīgā ar Serbiju, 3. jūlijā izbraukumā Slovākijā.
Nākamajā kārtā Latvijai nāks, ja tā tur tiks, trīs no potenciāli četrām B grupas komandām – Grieķija, Turcija, Lielbritānija vai Baltkrievija. Kā ierasts, pirmās kārtas spēļu rezultāti nāks līdzi tālāk.
Uz to norāda arī Banki: "Sacensību formāts no komandām pieprasa kvalitatīvu sniegumu ilgā laika posmā, ko ietekmēs daudz dažādu faktoru. Esmu pārliecināts, ka kopā ar saviem palīgiem mēs izveidosim konkurētspējīgu komandu. Jau priekškvalifikācijas turnīrā pierādījām, ka mums ir stabils pamats ambīcijām un nākotnes veidošanai. Gatavosimies sešām atbildīgajām spēlēm ar stingru apņēmību izcīnīt tik daudz uzvaru, lai varētu turpināt mūsu ceļu nākamajā sacensību posmā."
Lai arī cik tas klišejiski jau sāk izklausīties, 2023. gada PK tik tiešām ir viena no pēdējām iespējām, tā sauktajai, vismaz vārdos, "zelta paaudzei" sasniegt, ko lielu – tas būtu medaļas kādā no lielajiem forumiem. Tie noteikti būs pēdējie "pilnās bākas" gadi Jānim Strēlniekam un Dairim Bertānam, kas gadiem veidojuši jaudīgu "backcourt" pāri, bet uz maiņu nāktu Kristers Zoriks ar Rihardu Lomažu. Nemaz nerunāsim, cik iespaidīgi varētu izskatīties priekšējā līnija. Atrunas nedrīkst būt – Latvijai ir jākvalificējas! Trešo reizi atkārtojoties – lai izdodas!
LBS grib rīkot EČ arī ar "play-off" stadiju. Nauda būtu ļoti liela.
Portāls "Delfi" augusta vidū vēstīja, ka LBS esot interese rīkot 2025. gada EČ vīriešiem. Apstiprinājuma vēstuli FIBA tā bija nosūtījusi jau gadu iepriekš. "Vēlamies pieteikties gan uz grupu turnīru, gan izslēgšanas spēļu organizēšanu. Jautājums, vai valsts to akceptēs. Izmaiņas summā ir ļoti lielas, bet arī ieguvums ir liels," citēts LBS ģenerālsekretārs Kaspars Cipruss.
Latvija iepriekš pilnvērtīgi organizējusi 2009. gada EČ sievietēm, kā arī 2019. gadā divu grupu turnīru un divas astotdaļfināla spēles. Savukārt 2015. gadā Latvija bija viena no četrām valstīm, kas uzņēma meistarsacīkstes vīriešiem, kuru noslēguma fāze norisinājās Francijā.
Šobrīd LBS apsver iespēju rīkot ne tikai vienas grupas mačus, bet, iespējams, pieteikties arī uz ko vairāk. "Ja uzņemam tikai grupu, tad, protams, tas ir sportiskā principa dēļ. Tas mums atvieglotu jautājumus par NBA spēlētājiem. Ja mēs uzņemam arī "play-off", tas ir gan ekonomiskais princips, gan basketbola popularizēšana. Pie mums brauktu visi labākie spēlētāji," klāsta Cipruss.
FIBA pēdējos gados ir iedibinājusi kārtību, ka katra apakšgrupa tiek izspēlēta savā valstī, bet "play-off" stadija vienā. Teorētiski "Arēna Rīga" atbilst starptautiskajām prasībām un ļoti labi. Ieguvums būtu patiešām milzīgs. No visām pusēm. Tiek lēsts, ka, uzņemot arī izšķirošos mačus, finansiālie ieguvumi varētu būt pat septiņas reizes lielāki. Iespējams, šie skaitļi ir pārspīlēti, taču finansiāli tas noteikti būtu daudz labāk.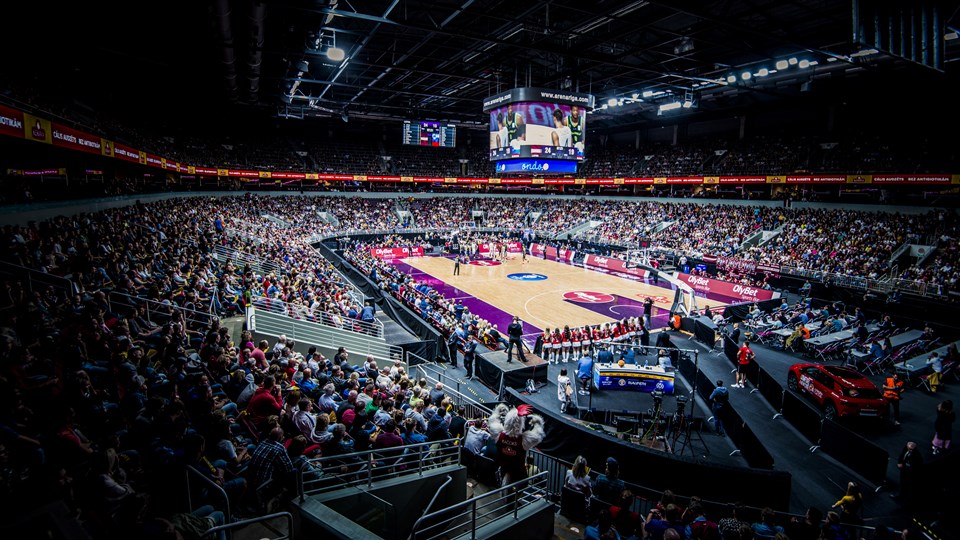 Bet šeit atkal ir cits stāsts – viena LBS ar savām iespējām šādu grupa + "play-off" čempionātu sarīkot nevar, tāpēc būs jāvēršas pie valsts, lai tā piešķirtu līdzekļus. Lai vai kāda tā valdība mums Latvijā ierasti būtu, ja attiecīgās sporta federācijas priekšdarbus paveic labi, proti, iegūst tiesības un starptautiskās organizācijas uztic rīkošanu, naudu tomēr piešķir. Labs piemērs ir ar hokeja čempionāta un rallija, kā arī citu pasākumu rīkošanu. Bet LBS šajā ziņā ir arī rūgta pieredze ar "pārrēķināšanos" (vai tomēr nekompetenci) 2019. gadā, kad tika rīkots sieviešu EČ. Līdz turnīra sākumam bija atlicis nedaudz vairāk par mēnesi, bet LBS tikai tad saprata, ka naudas visam nepietiek, un gāja pie valsts burtiski lūgt naudu, nostādot to ķīlnieka lomā. Beigās papildus naudiņa tika iegūta, bet vienlaikus bija jābrauc uz FIBA galveno mītni lūgties, lai samazina pasākuma rīkošanas kvalitātes prasības. Tas prestižu noteikti neceļ. Toties to noteikti pacēla vairāku kvalifikācijas posmu (gan sievietēm, gan vīriešiem) "burbuļu" rīkošana un šī gada Pasaules U19 čempionāts. Kas ir apsveicami.
Runājot par 2015. gada EČ vienas grupas rīkošanu, tad tas pasākums padevās veiksmīgi, LBS budžetu papildinot ar nedaudz vairāk kā pusmiljonu eiro. Šo naudu tika paredzēts izlietot kā tramplīnu "basketbola mājas" projektam. Tagad kļuvis zināms, ka "basketbola mājas" būs "visu mājas" un par to nākamajā nodaļā. Bet par 2025. gada EČ rīkošanu – trešo reizi: lai izdodas!
"Basketbola mājas" nebūs…
Liela nozīme tam, vai Latvija iegūs tiesības rīkot EČ ar "play-off" stadiju būs LBS interešu lobijam Saeimas un ministriju kabinetos. Un runājot par lobēšanu, jautājumā par jaunas basketbola halles celtniecību pierādījās, ka tas ir ļoti vājš. Īsumā – par iepriekš piesaukto nopelnīto pusmiljonu tika izstrādāt projekts PRIMĀRI basketbola vajadzībām jaunas celtnes būvniecībai. Pirmsvēlēšanu laikā pērn dažādi politiķi kopā ar Ciprusu fotografējās pie neuzbūvētās ebreju vidusskolas pamatiem, kur bija jāslienas lepnai būvei – LBS basketbola hallei.
Turpinājums tik skaists gan nesekoja. Beigās "basketbola māja" pārtaps par multifunkcionālu sporta kompleksu, un neviens tā arī no LBS nemācēja atbildēt vai tās ieguldītā nauda projekta izstrādē vispār tiks atgūta. Laikam nē, bet zināms, ka kompleksā būs arī basketbola laukumi, kas gan kopējo, īpaši basketbolam katastrofālo infrastruktūras pieejamības jautājumu neatrisina. Tikai ļoti maz.
Tas tikai norāda uz LBS nespēju lobēt savas intereses un atsevišķu politikāņu (citādi viņus nosaukt nevar – par to zemāk rakstā) ambīcijām paspīdēt pirms reāli saprotot, ko un kā ir sasolījuši. No otras puses – kāpēc gan lai basketbols pandēmijas laikā būtu pelnījis īpašu attieksmi attiecībā pret citiem sporta veidiem, kur arī problēmas ar piemērotu ēku pieejamību ir lielas. Protams, ka neviens nedos šajā laikā naudu no valsts sporta veidam, kur vietējais čempionāts ir amatieru līmenī ar vienu reāli profesionālu klubu, un kad jauniešu izlases spēlē daudzas B divīzijā, bet pieaugušo kā sieviešu, tā vīriešu, nemaz nav finālturnīros. No otras puses – LBS bija tik tuvu. Tā arī šo rindu autoram savulaik rakstīja LBS ģenerālsekretārs, tobrīd vēl apgalvojot, ka tieši "basketbola halles" projekts.
Vairāk par "basketbola mājas" sāgu varat lasīt šajā rakstā.