Kamēr tenisa pasaulē norisinās gada noslēdzošais "Grand Slam" turnīrs "US Open", kurā nepiedalās vairākas leģendas kā Rafaels Nadals, Rodžers Federers un Serēna Viljamsa, dzīvē nekas nestāv uz vietas. Pat neskatoties uz to, kurš atlēts/e izcīnīs uzvaru šajā turnīrā un iegūs 2,5 miljonu ASV dolāru lielo naudas balvu, izmaiņas apmaksātāko tenisistu (gan nopelnītajā uz korta, gan ārpus korta aktivitātēs) topā nenotiks vai būs pavisam mazas. Šis ir principa – no sākuma strādā savam vārdam, bet pēc tam tas strādās tavā labā – lielisks paraugdemonstrējums.
Piemēram, Viljamsa nav izcīnījusi "Grand Slam" titulu kopš 2017. gada "Australian Open" un izlaidusi vairākus šīs kategorijas turnīrus, bet aizvien apmaksātāko šī sporta veida personu vidū "ieliek" Novākam Džokovičam ar Nadalu. Kas interesanti – tieši Viljamsa savulaik sūdzējusies, ka sievietes tiek diskriminētas, taču to laikam nebija domājusi par sevi. Kaut gan nenoliegsim – daudzos turnīros vīriešu un sieviešu vienspēlēs summas ir atšķirīgas, tomēr to nevajadzētu uztvert tik sāpīgi. Visu nosaka pieprasījums. Kāpēc gan, lai maksātu tikpat, ja uz spēlēm nāk mazāk cilvēku, pērk mazāk biļešu, u.t.t.? Mūsdienu kapitālisma ēnas puse.
Turpinot par materiāla tēmu. Tas pats Nadals ar Federeru šogad ir piedalījušies attiecīgi tikai 17 un 15 turnīros kopumā (mazākais skaits no visiem pasaules ranga top 100 dalībniekiem), bet saņem iespaidīgus čekus par reklāmas līgumiem. Un kamēr "US Open" kortos iemirdzas jaunas zvaigznes kā 19 gadīgā kanādiete Leila Annija Fernandesa un 18 gadīgā Lielbritānijas pārstāve Emma Radukanu (abas iekļuvušas pusfinālā) un 18 gadus jaunais spānis Karloss Alkarass (izstājās savainojuma dēļ ceturtdaļfinālā) un citi, "vecie buki", daži pat nespēlējot, turpina skaitīt naudu.
Turpinājumā piedāvājam šogad top 10 apmaksātākos tenisistus/es, par atskaites punktu ņemot iepriekšējā gada "US Open" (tātad pēdējo 12 mēnešu periodu) un ienākumiem no turnīru balvu fondiem, kā arī reklāmas līgumu apjomu, piedalīšanos dažādos apmaksātos pasākumus (un tādi ir!) vai par piedalīšanos kādā konkrētā turnīrā un tēla izmantošanu, kā arī ienākumus no veiksmīgi veiktām investīcijām. Kopējās summās netiek aprēķināti nodokļi (dažādās valstīs tie ir dažādi) vai aģentu komisijas.
1. Rodžers Federers (Šveice, 40 gadi)
Kopējie ienākumi: 90,6 miljoni USD
ATP tūrē no balvu fondiem: 0,6 miljoni USD
Ārpus korta ienākumi: 90 miljoni USD
Ja "Grand Slam" titulu ziņā Nadals ar Džokoviču ir panākuši Federeru, visiem trim esot pa 20 šāda kaluma kausiem, tad sponsoru naudas piesaistē šveicietis ir neapstrīdami visu laiku veiksmīgākais tenisists. Pēc "Forbes" aplēsēm Federers ar ārpus korta aktivitātēm karjeras laikā nopelnījis tuvu 900 miljoniem, savukārt no balvu fondiem sacensībās 131 miljonu. Šogad viņš kļuva par tikai sesto aktīvo sportistu, kurš sasniedzis 1 miljardu ASV dolāru karjeras peļņu (tiesa, pirms nodokļu nomaksas un aģentu honorāriem). Un "lielā algas diena" ir vēl priekšā, jo viņam pieder daļas Šveices skriešanas apavu kompānijā ("Holding AG"), kura vēl nesen augustā paziņoja, ka gatavojas tās kontrolpaketi pārdot, bet pēdējā pusgada laikā tās ienākumi palielinājušies par 85% un kopējā uzņēmuma vērtība jau mērāmā divu miljardu apjomā. Līdz ar to nav jābrīnās, ka Federers jau 16 gadus pēc kārtas ir pelnošākais tenisists.
2. Naomi Osaka (Japāna, 23 gadi)
Kopējie ienākumi: 60,1 miljons USD
WTA tūrē no balvu fondiem: 5,1 miljons USD
Ārpus korta ienākumi: 55 miljoni USD
Lai arī Osaka izstājās no "French Open" un izlaida Vimbldonu mentālās veselības problēmu dēļ, sponsori no viņas nav novērsušies. It īpaši "Nike", kas pat viņu publiski atbalstījuši un izdomājuši kā no tā nopelnīt, sponsorējot dažāda veida projektus, kas saistīti par šo tēmu, kā arī palaižot daudzas kampaņas. Kopumā Osakai ir aptuveni 20 sponsorēšanas līgumi, jaunākajam no tiem esot ar "Panasonic". Lai arī dzimtajā valstī rīkotajās Tokijas OS vēl tikai 23 gadus jaunā tenisiste zaudēja trešajā kārtā, viņa bija viena no šis olimpiādes reklāmas sejām. Tāpat viņa bija seja jaunajai bārbijas lellei, kuras modelis tika izlaists vasaras sākumā un to izpirka teju pāris stundu laikā.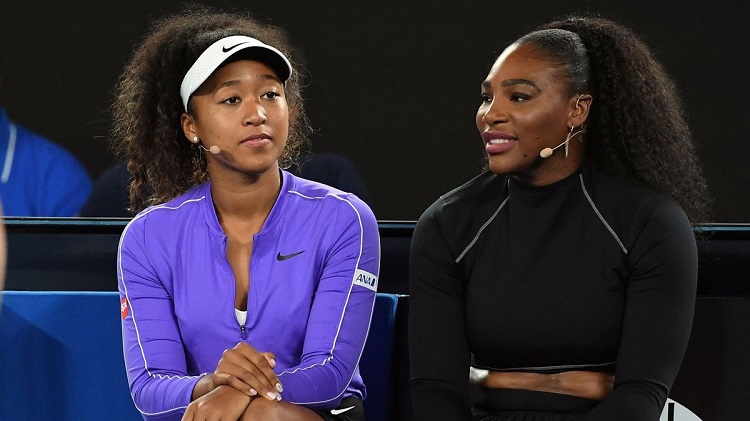 3. Serēna Viljamsa (ASV, 39 gadi)
Kopējie ienākumi: 41,8 miljoni USD
WTA tūrē no balvu fondiem: 1,8 miljoni USD
Ārpus korta ienākumi: 40 miljoni USD
Kā jau ievadā minēts, panākumi uz korta pēdējos gados 23 "Grand Slam" titulu ieguvējai Serēnai padodas aizvien retāk. Šobrīd viņa WTA rangā nokritusi līdz sev neierastajai 22. vietai un pēc "US Open" šis kritiens turpināsies. Bet līdzīgi kā Federeram viņai ir labas attiecības ar sponsoriem, kuri pēc skaita ir ap 20. Viljamsas vārds arī atrodas starp ASV bagātāko sieviešu ("America's richest self-made women") topa dalībniecēm, bet viņas "Serenas Venture" fonds veiksmīgi ieguldījis naudu vismaz 66 "start-up" biznesos, kas nes (un vēl nesīs) peļņu.
4. Novāks Džokovičs (Serbija, 34 gadi)
Kopējie ienākumi: 38 miljoni USD
ATP tūrē no balvu fondiem: 8 miljoni USD
Ārpus korta ienākumi: 30 miljoni USD
Lai arī Džokoviča sapnis par "Golden Grand Slam" (visi četri GS tituli + OS zelts vienā gadā) izplēnēja Tokijas OS pusfinālā, viņš aizvien ir uzņēmis tempu, lai kļūtu par pirmo vīriešu kārtas pārstāvi kopš 1969. gada, kurš kalendārajā gadā uzvarējis visus četrus "Grand Slam" titulus. Uzvara "US Open" nodrošinātu arī viņam pirmo vietu visu laiku visvairāk "Grand Slam" titulu ieguvušo vīriešu sarakstā. Neskaitot lieliskos panākumus kortā, Džokovičs šogad daudzajām sadarbībām ir pievienojis partnerattiecības ar "Raiffeisen Bank", "Lemero" printera kasetnēm un "Hublot" pulksteņiem, bet viņa galvenais sponsors ir "La Coste" un izskatās, ka serbs vēl nav gatavs kārt botas uz nagliņas, jo nesen kā parakstīja jaunu vienošanos līdz 2025. gadam. Naudas paliks aizvien vairāk. Naudas balvu kopsumma būtu vēl lielāka, ja ne viņa pagājušā gada izlēciens "US Open" laikā, kad viņš ar bumbiņu iesita līnijtiesnesim. Diskvalifikācija nozīmēja 250 tūkstošu aiziešanu gar degunu par 4. kārtas sasniegšanu, un kas zina – iespējams vairāk, uzvarot vēl pāris mačus un varbūt pat kausu.
5. Rafaels Nadals (Spānija, 35 gadi)
Kopējie ienākumi: 27 miljoni USD
ATP tūrē no balvu fondiem: 4 miljoni USD
Ārpus korta ienākumi: 23 miljoni USD
Nadals šobrīd tāpat kā Federers atkopjas no savainojumiem un cer kortā atgriezties 2022. gadā. Tiek lēsts, ka par atsevišķu sponsoru pasākumu apmeklēšanu vien – vai tā būtu paraugspēle vai kāda izstāde – Nadalam maksā miljonu par reizi. Nadala aizraušanās ir pulksteņi un kas zina – varbūt kā 2020. gada "French Open" viņš mūs pārsteigs kā toreiz ar "Richard Mille" firmas miljona vērtu rokas pulksteni. Tāpat pie pazīstamākajiem spāņa sponsoriem pieskaitāmi "Nike", "Babolat" un no šī gada arī "Amstel".
Nadals un viņa miljona vērtais pulkstenis "Roland Garros" kortos

6. Kei Nišikori (Japāna, 31 gads)
Kopējie ienākumi: 26 miljoni USD
ATP tūrē no balvu fondiem: 1 miljons USD
Ārpus korta ienākumi: 25 miljoni USD
Daudziem Nišikori atrašanās topā noteikti ir pārsteigums. Lai arī šobrīd viņš ATP rangā atrodas vien 56. vietā un kortā nopelnījis "tikai" miljonu, pelnošāko tenisistu vidū viņš atrodas pateicoties ienesīgajiem reprezentācijas līgumiem, kurus viņš parakstīja pirms Tokijas OS, kad Japānas bagātie sponsori gaidīja, ka viņš būs viena no pasākuma sejām. Nišikori šobrīd ir vienošanās ar aptuveni duci dažādiem uzņēmumiem, bet paliek aktuāls jautājums – kas notiks nākamgad, kad olimpiāde ir jau aiz muguras?
7. Daniils Medvedevs (Krievija, 25 gadi)
Kopējie ienākumi: 13,9 miljoni USD
ATP tūrē no balvu fondiem: 5,9 miljoni USD
Ārpus korta ienākumi: 8 miljoni USD
Medvedevs ir "Next Gen" viena no sejām un šobrīd pasaules ranga otrā rakete. Tiesa, viņam tā arī vēl nav izdevies iegūt kādu ""Grand Slam" titulu. Visādi citādi – uz korta viņš "spridzina". Tas atspoguļojas dažādos ienesīgos reklāmas līgumos ar tādiem labi zināmiem zīmoliem kā "La Coste", "Tinkoff Bank", "Bovet" pulksteņiem un nesen viņš paziņoja par sadarbības sākšanu ar datorspēļu uzņēmumu "HyperX". Nākamajā gadā viņš noteikti no reklāmām pelnīs vairāk. Ja spēs izcīnīt "Grand Slam" titulu – šī līkne aizies vēl augšupejošākā ģeometriskā progresijā.
8. Dominiks Tīms (Austrija, 28 gadi)
Kopējie ienākumi: 8,9 miljoni USD
ATP tūrē no balvu fondiem: 4,9 miljoni USD
Ārpus korta ienākumi: 4 miljoni USD
Plaukstas locītavas trauma Maljorkas turnīrā jūnijā ir piebremzējusi austrieša popularitāti, jo viņš aizvien no tās nav atguvies. Pērn viņš pandēmijas apstākļos uzvarēja "US Open" – tas ir retums, kad to izdara kāds cits, izņemot "lielais trijnieks". Neskatoties uz to, arī Tīmam ir iespaidīgi "draugi", kuri gatavi maksāt lielu naudu par viņa tēla izmantošanu – "Adidas", "Babolat", sadarbība ir arī ar "Red Bull" un daudzi jauni līgumi vēl ir tapšanas procesā.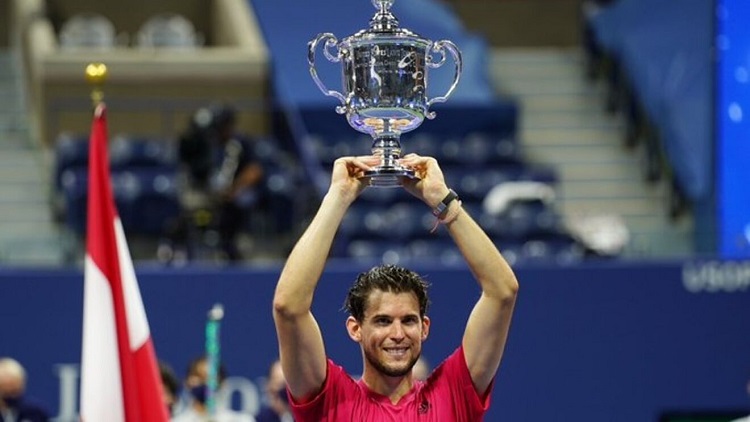 9. Stefans Cicips (Grieķija, 23 gadi)
Kopējie ienākumi: 8,1 miljons USD
ATP tūrē no balvu fondiem: 4,1 miljons USD
Ārpus korta ienākumi: 4 miljoni USD
Cicips ir vienīgais jaunais dalībnieks top 10 pelnošāko tenisistu sarakstā salīdzinot ar iepriekšējo gadu, izstumjot no tā Simonu Halepu. Šobrīd viņš ATP rangā ir trešais un jūnijā Parīzē sasniedza savu pirmo "Grand Slam" finālu, nenoticot sev un zaudējot no vadības setos 2-0 pret Džokoviču… Arī viņam ir ienesīgas sadarbības ar pasaules slaveniem brendiem – "Adidas", "Wilson" un "Rolex", kā arī citiem. Tāpat viņa personība tiek uzskatīta daudz piesaistošāka tieši mārketinga interesēm – un uzņēmumiem tieši tas interesē! No otras puses – viņš savu tēlu pabojāja, kad publiski pauda nevēlēšanos saņemt Covid19 vakcīnu un pēdējā laikā iekarojis daudzus nelabvēļus ar regulāro "tualešu" paužu ņemšanu mačos, ko daudzi uzskata kā neētisku rīcību pret pretiniekiem.
10. Ešlija Bārtija (Austrālija, 25 gadi)
Kopējie ienākumi: 5,8 miljoni USD
WTA tūrē no balvu fondiem: 3,8 miljoni USD
Ārpus korta ienākumi: 2 miljoni USD
Visveiksmīgākais gads Bārtijai bija pirms pandēmijas (2019) – tad viņa kortos bija nopelnījusi 11,3 miljonus USD balvu fondos un kļuva par pasaules pirmo raketi. Tas ir otrais visu laiku labākais rezultāts WTA tūres vēsturē. Pērn viņa piedalījās vien četros turnīros, bet, pateicoties ranga punktu "iesaldēšanai" pandēmijas dēļ, savu pirmo vietu saglabāja. Šogad viņa ir atguvusies, tiekot jau pie pieciem vienspēļu tituliem, tostarp triumfējot Vimbldonā. Un lai arī visi "Grand Slam" turnīri šobrīd piedāvā identisku balvu fondu gan vīriešiem, gan sievietēm, citi turnīri aizvien atgādina par ienākumu nevienlīdzību. Tā piemēram, Bārtija pirms "US Open" triumfēja Sinsinati "Masters" un par uzvaru ieguva 255 tūkstošus USD. Kamēr vīriešu čempions Saša Zverevs 655 tūkstošus…
Pēcvārds
Kopā visi top 10 pelnošākie tenisisti/es pēdējos 12 mēnešos ienākumos saņēmuši 320 miljonus dolāru, kas ir par 6% mazāk nekā pērn, lielākoties pateicoties tam, ka spēlētājiem bija liegta iespēja palielināt savu finansiālo uzkrājumu uz turnīru un dažādu pasākumu apmeklēšanas rēķina. Un arī elites līmeņa spēlētāji naudas dēļ nereti ir gatavi piedalīties zemāka līmeņa turnīros, kur viņiem par piedalīšanos vien turnīra organizatori ir gatavi piemaksāt,  līdzīgi kā tas notiek paraugspēlēs. Straujāku finansiālo rādītāju lejupslīdi apturēja ārpus korta aktivitātes, kur, neskatoties uz to, ka liela daļa zīmolu savus izdevumus pandēmijas dēļ samazināja, pasaules pelnošākie 10 tenisisti/es (un vēl daži citi) nopelnīja par 4% pat vairāk.
Un ja skatāmies tieši šo topu, ne tikai Federers, Nadals un Viljamsa ir spēlējuši pēdējo 12 mēnešu laikā izteikti maz, bet arī Džokovičs cīnījies ar dažādiem savainojumiem un piedalījies tikai 18 turnīros, labu laiku izlaidis arī ir Tīms un Osaka. Ņemot vērā šos apstākļus, skaidrs, ka par tādiem ienākumiem var parūpēties tikai elites klases sportisti.
Tenisa spēlētāju vidū ir vairāki piemēri, kur noteicošais lieliem ienākumiem no reklāmu līgumiem nav demonstrētais sniegums kortā. Protams, Federers, Nadals un Viljamsa, tagad arī Džokovičs ir jau leģendu statusā, bet spilgts piemērs vairākus gadus atpakaļ bija krieviete Anna Kurņikova, kura tā arī nekad nekļuva par pasaules pirmo raketi vai neuzvarēja kādā "Grand Slam" turnīrā. Un laiku pa laikam "izlec" kāda daudzsološā zvaigznē, kas piedzīvo strauju kāpumu sportiskajā ziņā, bet ātri viens tas pazūd, bet ienākumi no sponsoriem par to liek nedomāt. Tiesa, mūsdienās tas nav tik izteikti, jo ir turnīri, kur televīzijas translē notikumus tikai no centrālajiem kortiem. Un, ja tu tur netiec, attiecīgi tavu apģērbu vai sponsora brendu uz kādas citas ķermeņas daļas cilvēki TV ekrānos neredz. Un tas nekam neder…