Basketbola sezona, kura aizvien pagāja pandēmijas zīmē, ir noslēgusies un jāskatās patiesībai acīs – Latvijas basketbolisti spēruši vairākus soļus atpakaļ. Ja pērn varējām priecāties par vairākām uzlecošajām zvaigznēm un mūsējo sniegumu pāri okeānam, tad šobrīd realitāte ir tāda, ka kontingents pasaules spēcīgākajā līgā Latvijai ir sarucis, tas pats noticis arī Eirolīgā. Tiesa, kā vienmēr ir arī pozitīvi izņēmumu, kā arīdzan spēlētāji, kuri aizvien spēlē solīdā līmenī vai ir pārsteiguši ar savu sniegumu.
"Sporta pils" izveidoja savu latviešu basketbolistu topu, lai salīdzinātu mūsu profesionāļu un vispār atgādinātu par latviešu leģionu arī ārpus robežām, kas negozējas Eirolīgas un NBA starmešu gaismās.
Tops ir subjektīvs! To veidojot tiek ņemta vairāku apstākļu mijiedarbība – līga, individuālais un komandas sniegums, atrašanās izlases trenera redzeslokā un, protams, arī tirgus vērtība un reputācija. Par atskaites punktu tiek ņemta aizvadītā sezona.

10. Mārtiņš Meiers, "Astana"/"Elan Chalon" (VTB Vienotā līga/Francijas Pro A)
Centrs sezonu iesāka Astanā, kur bija viens no vadošajiem spēlētājiem (vidēji 11,2 punkti un 5,8 atlēkušās bumbas), tomēr tās vidū pēc paša iniciatīvas pārcēlās uz Francijas čempionātu, kur neilgi pēc pievienošanās klubam noslēdza trīs gadu līgumu. Tātad – kluba vadība saredzēja latvietī nākotnes līderi, ko viņš arī spēja demonstrēt laukumā, kad tikai vienā no 24 spēlēm nedevās starta pieciniekā. Noslēgumā "cipari" varbūt arī tik iespaidīgi nesanāca (9,8 punkti un 4,1 bumba zem groziem), turklāt komanda izkrita uz līgu zemāk, bet līgums jau bija noslēgts…
Meieru gan tas neuztraucot, jo viņu viss apmierina. It īpaši sadzīviski, ņemot vērā arī ģimenes labklājību. Ja atgriežamies pie sportiskā, tad bija izteikts līderis valstsvienības mačos, kur dominēja – 14,2 punkti un 7,3 bumbas zem groziem ik maču. Tas arī topa ietvaros iedod pievienoto vērtību. Starp citu, pats centrs vienā no intervijām izteicies, ka savā uzbrukuma arsenālā nākamajā sezonā plāno ieviest arī trīspunktu metienu regulāru izpildīšanu. "Es jau vienmēr viņus esmu varējis iemest, bet vienkārši līdz šim nemetu," sacīja Meiers.
9. Rihards Lomažs, Vilērbānas ASVEL/"Gottingen" (Francijas Pro A & Eirolīga/ Vācijas Bundeslīga)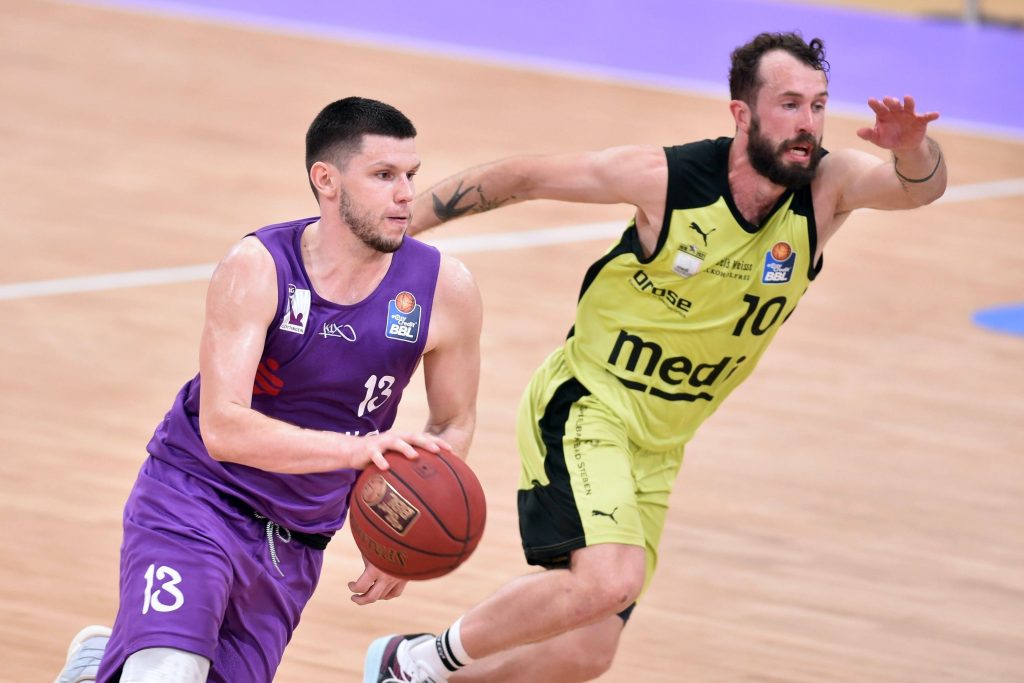 Lomažs vēl gadu iepriekš daudzus pārsteidza, pievienojoties NBA leģendai Tonijam Pārkeram piederošajam klubam, kas spēlē Eirolīgā. Nepiekāpīgais aizsargs "izsita" vietu rotācijā, taču šajā sezonā veiksmīgs turpinājums nesekoja, bieži paliekot pat ārpus pieteikuma. Eirolīgā Lomažs piedalījās sešos mačos, kur vidēji deviņās minūtēs guva 3,3 punktus, bet Pro A viņam tikpat spēlēs caurmērā 11 minūtēs iespēti trīs punkti un viena rezultatīva piespēle. Lomažs saprata, ka pie Pārkera klubā viņam vairāk "nespīd", noslēdza līgumu Vācijā, kur sevi apliecināja lieliski.
21 spēlē (13 no tām starta pieciniekā) Lomažs laukumā vidēji pavadīja 28 minūtes, gūdams 16,6 punktus (piektā vieta rezultatīvāko sarakstā līgā) un izdarot 3,5 rezultatīvas piespēles. Vienā spēlē viņš pat guva 38 punktus, labojot Bundeslīgas šīs sezonas rezultativitātes rekordu.
Jāatzīmē, ka Bundeslīga, runājot par vietējām Eiropas līgām (neskaitot starptautiskās sacensības), pēc daudzu ekspertu domām dažādos topos ierindojas pat top5. Tiesa, lieliskais Lomaža sniegums nepalīdzēja komandai kvalificēties "play-off", toties ļāva saglabāt vietu augstākajā līgā. Runājot par izlasi, bija Štelmahera favorīts, taču līdz galam uz sevi liktās cerības par līdera lomu diemžēl nespēja attaisnot. Ar labu metienu precizitāti viņš izcēlās tikai zaudētajā spēlē ar bosniešiem otrajā logā, taču pārējos trīs mačos, kur piedalījās, metieni no spēles realizēti zem 30% un gūtie punkti attiecīgi 2x pa sešiem un pieci.
Jauno sezonu Lomažs iesāks Turcijas augstākās līgas jaunpienācējā un skaidrs, ka noteikti tur ir ņemts kā viens no līderiem. Novēlēsim, lai to izdodas apliecināt arī laukumā!
8. Dairis Bertāns, Maskavas apgabala "Khimki" (VTB Vienotā līga, Eirolīga)
Iespējams, daudzi atkal pilnā balsī ķērks, kā tas nākas, ka viens no retajiem Eirolīgas pārstāvjiem ir tik zemu topā. Eirolīgā 20 mačos vidēji 17,2 minūtes un gūti 5,4 punkti, savukārt VTB šie rādītāji ir nedaudz labāki attiecīgi 19,3 minūtes + 6,9 punkti, tālmetienus realizējot ar 39% precizitāti. Tomēr "Khimki" šosezon bija "paraugs" bardakam – gan pēc laukumā redzētā, gan aizkulisēs, un kā tagad zināms, klubs nākamo sezonu finansiālu iemeslu dēļ izlaidīs.
Tieši tāpēc Dairis komandu pameta jau marta sākumā, bet kopš tā laika tā arī nekur nespēlēja. Attiecīgi sezonu noslēgt  aptuveni trīs mēnešus pirms tā daudzviet Eiropā vēl norisinās, arī nav labs rādītājs topa veidotāju acīs. Protams, Dairis ir piederīgs Eiropas elites līmenim, bet arī par to rodas jautājumi, jo "Khimki" rindās bija vērojams vairāk nepārliecinošs, nekā pārliecinošs sniegums. Jebkurā gadījumā spēlētājs ar Eiropas augstāko līgu pierakstu, kuru mums nav palikuši nemaz tik daudz. Žēl, ka Štelmahers viņu izčakarēja EČ kvalifikācijā, izšķirošajā mača laukumā izlaižot vien uz 15 minūtēm. Tādiem spēlētajiem "būt vai nebūt" brīžos jābūt laukumā vairāk!
7. Rolands Freimanis, "Zielona Gora" (VTB Vienotā līga, Polijas augstākā līga)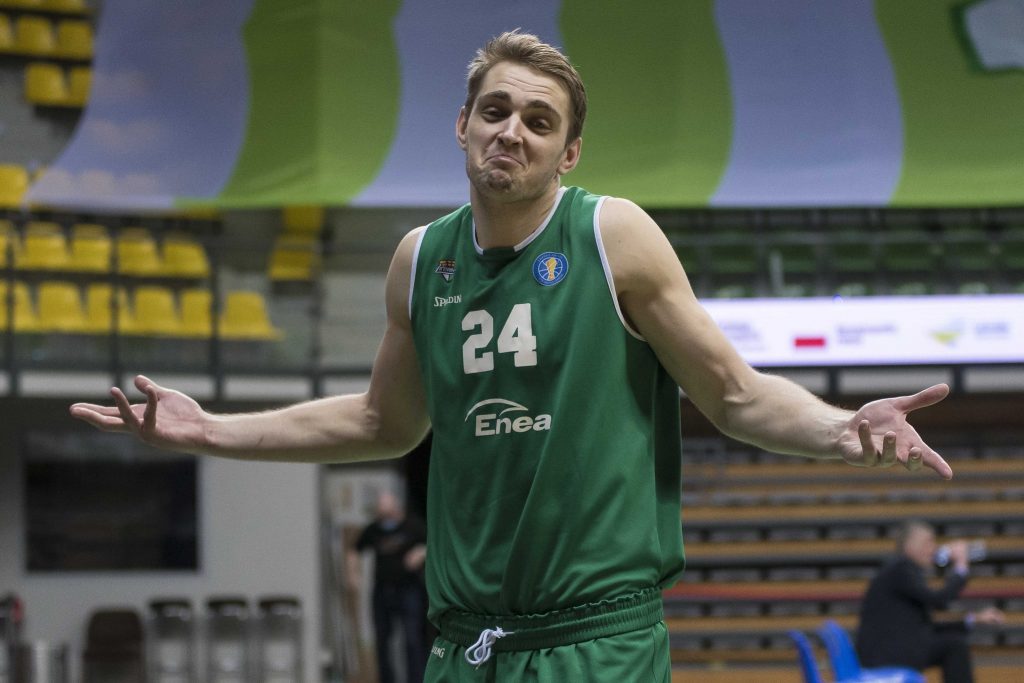 Tiem, kas apelēs, ka Bertānam jābūt augstāk, jo viņam bija Eirolīgas pieraksts, oponēsim par tiem trīs mēnešiem, kad sezona noslēdzās ātrāk. Tomēr izlaista trešā daļa. Otrkārt, Freimanis ieguva VTB līgas labākā "sestā spēlētāja" balvu (starta pieciniekā devās astoņās no 23 spēlēm), kas ir iespaidīgi! Lieki piebilst, ka nevienam latvietim tas iepriekš nav izdevies, turklāt līgas rezultatīvāko spēlētāju sarakstā Freimanis sezonu noslēdza kā trešais ar vidēji 17,8 punktiem, tiem pievienojot vēl 5,6 bumbas zem groziem. Efektivitātes rādītājā Rolands vispār bija otrais no visiem VTB spēlējošajiem. Komentāri lieki. Piedevām "Zielona Gora" finišēja augstāk par "Khimki".
Pilnai laimei pietrūka vien Polijas čempionāta zelts, kur nācās samierināties ar sudrabu, bet statistika nedaudz zemāka – 14,2 punkti un 5,1 atlēkusī bumba. Ļoti žēl, ka Štelmahers izdomāja iet savu priekšteču Latvijas izlases treneru amatā pēdās, velti viņu čakarējot. Viņa potenciāls izlases kontekstā jau labu laiku tiek novērtēts par zemu vai netiek izmantots vispār, par ko ir jābrīnās. Neskatoties uz to, Rolands vienmēr, kad varējis, steidzis izlasei palīgā un nav atteicis. Vienīgi šovasar negaidīti atsaucis dalību no treniņu nometnes, bet paši vainīgi – cilvēkiem ir arī savas darīšanas un dzīve, un ja "uzmetat" cilvēku pēdējos gados tik regulāri, loģiski, ka arī viņš sāks izvērtēt prioritātes. Lai vai kā, Freimanim aiz muguras bija viena no labākajām sezonām karjerā, līdz ar to arī pelnīta vieta kopējā topa labāko desmitniekā!
6. Jānis Timma, Maskavas apgabala "Khimki" (VTB Vienotā līga, Eirolīga)
Sezona haosa pārņemtajā komandā Jānim bijusi smaga – sākot ar peripetijām ar krievu presi, kas nenogurdinoši rakstīja par viņa attiecībām ar ukraiņu izcelsmes dziedātāju Annu Sedakovu, beidzot ar vairākiem savainojumiem un nepārliecinošo sniegumu, kas no tā izrietēja. Eirolīgā aizvadīja tikai 16 spēles, kurās izcēlās ar 7,1 punktu. Tas gan netraucēja būt rezultatīvākajam latvietim šajā turnīrā, kā arī tam, kurš laukumā no saviem tautiešiem pavada visvairāk minūtes – vidēji 25.
Nav noslēpums, ka klubam bija problēmas ar algu izmaksām, taču Timma tāpat vēlējās sezonu noslēgt pie-Maskavas klubā. Tomēr, kā aprīlī rakstīja "Sport-Express", tad viņam izcēlies konflikts ar galveno treneri Andreju Maļcevu, kurš aizstāja atlaisto Rimu Kurtinaiti. Iemesls – Timma esot bijis neapmierināts, ka mačā pret Freimaņa pārstāvēto klubu nav iekļauts starta pieciniekā, tāpēc devies uz ģērbtuvēm. Kopš tā laika viņš laukumā vairāk neparādījās, bet "Khimki" ģenerālmenedžeris vienā no intervijā izteicās: "Timma" ir pametis kluba rindas, bet mēs turpinām ceļu uz priekšu. Mums ir spēlētāji, kuri ir gatavi spēlēt, gūt baudu no procesa, parādīt rezultātu, neskatoties uz visām grūtībām." Netieši norādot, ka Timma uz to nav bijis gatavs.
Lai vai kā, Jānis nav atmetis domu par NBA, kur uz viņu tiesības pieder Orlando "Magic" vienībai. Jau paziņots, ka Timma piedalīsies NBA Vasaras līgā un šobrīd viņš uzturas ASV, kur intensīvi gatavojas šim turnīram un iespējai nokļūt NBA.
5. Jānis Strēlnieks, Maskavas CSKA (VTB Vienotā līga, Eirolīga)
Pēdējos gados Strēlnieku kā ierasts vajā dažādas traumas un arī šis gads nebija izņēmums, tostarp sasirgšana ar covid jau sezonas sākumā, kas lika principā izlaist visu oktobri, bet pēc tam novembra sākumā iegurņa trauma šo dīkstāvi paildzināja vēl uz kādu laiku. Arī CSKA sezonas vidū rezultāti nebija tādi, kādi vēlētos, tomēr uz tās beigām komanda spēja savākties, iekļūstot Eirolīgas "Final 4" (palika gan ceturtie), gan izcīnot kārtējo VTB līgas čempionu kausu.
Tiesa, no pieteikuma VTB līgā viņš tik svītrots marta sākumā, jo komandai pievienojās dānis Gabriels Lundbergs (VTB krievu klubiem ir leģionāru limits). Komandu bija pametis arī Maiks Džeimss, kurš devās uz NBA, kas notika, kad Jānis no VTB jau bija "atšūts", bet vismaz tādējādi Strēlnieks tik pie minūtēm Eirolīgā. Statistika Jānim ir pieticīga – 26 spēlēs Eiropas klubu basketbola spēcīgākajā turnīrā vidēji 13,8 minūtes, gūti 4,4 punkti un atdotas 1,6 rezultatīvas piespēles. Savukārt deviņās VTB līgā nospēlētajās spēlēs 17,5 minūtes, 6,6 punkti un 2,6 piespēles. Klubs jau paziņojis, ka latvietis karjeru tur vairāk neturpinās, pasakoties par pavadītajiem diviem gadiem, bet līgumu jaunu neslēgšot.
4. Rodions Kurucs, Bruklinas "Nets"/Hjūstonas "Rockets"/Milvokī "Bucks" (NBA)
Kurucs šosezon burtiski sēdēja uz koferiem. Divas reizes tika aizmainīts, līdz beigās "Bucks", kas ļoti iespējams kļūs par čempioniem, viņu atlaida. Grūti pat kaut ko komentēt Kuruca sakarā. Pēc Kevina Duranta atgriešanās laukumā bija skaidrs, ka uz "lielām" minūtēm latvietis var necerēt, ņemot vērā vēl aizvadīto sezonu, kas arī nebija spoža. Pēc maiņas uz "Rockets", kur galvenā figūra bija Džeimss Hārdens, bija cerība, ka spēles laiks varētu pieaugt, bet acīmredzot arī tur treneri viņš nepārliecināja, kā rezultātā tika aizmainīts vēlreiz un uz Milvokī. Žēl, ka vismaz nenoturējās 15 spēlētāju sastāvā, jo tad, iespējams, Latvijai vismaz būtu pirmais NBA čempions.
Kurucs NBA šosezon laukumā devās 21 spēlē, vidēji spēlējot sešas minūtes un gūstot 1,5 punktus. Tagad zināms, ka nākamā pieturvieta būs Belgradas "Partizan", kas nespēlē pat Eirolīgā. Kāpēc "pat"? Jo Kurucam ir vēl tikai 23 gadi un aiz muguras trīs sezonu NBA pieraksts. Vairāk par viņa gaitām aizvadītajā sezonā un prognozēm topošajā varat lasīt zemāk rakstā.
Kuruca iespējas atdzimt kopā ar "Partizan" un leģendāro Obradoviču
3. Rolands Šmits, "Barcelona" (ACB, Eirolīga)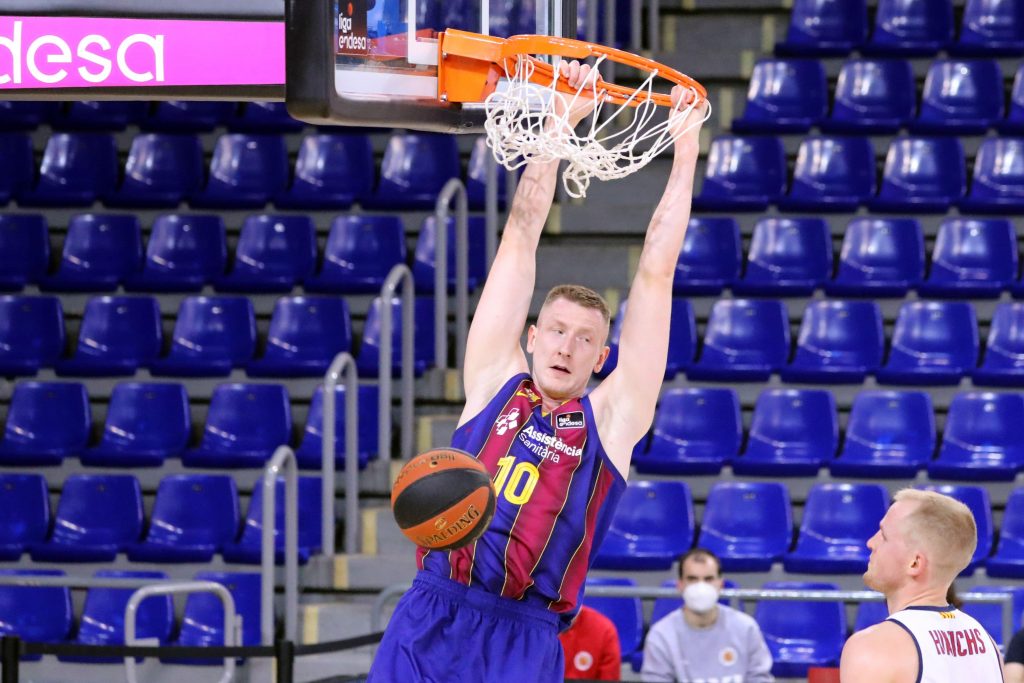 Šmits bija viens no retajiem, kurš aizvadītajā sezonā patīkami pārsteidza. Nē, viņš nekļuva par Eiropas granda līderi, bet gan stabilu rotācijas spēlētāju. Pateikties par to var lietuviešu speciālistam Šarūnam Jasikēvičam, kurš pazīstams kā treneris, kurš spēj iedvesmot spēlētājus atvērties un demonstrēt savas labākās īpašības laukumā. Tas notika ar Šmitu, vienlaikus viņam ne tikai apzinoties, bet beidzot atrodot savu lomu.
Pēc basketballreference.com datiem Šmitam gan ACB, gan Eirolīgā ir identisks vidējais spēles laiks – 15,9 minūtes, bet ar punktu gūšanu nedaudz labāk ir veicies ACB, kur 6,4, bet Eirolīgā 5,5. Latvietis bieži tik izmantots kā enerģijas spēlētājs, proti, agresīvi jācīnās gan aizsardzībā, gan ejot pakaļ uzbrukumā garām aizmestajām bumbām. Tāpat viņš ir sasniedzis vēsturisku panākumu, būdams otrais latvietis, kurš triumfējis ACB (pērn tas bija Artūrs Kurucs), kā arī Šmitam bija liela loma Karaļa kausa izcīnīšanā, kur fināla mačā viņš izcēlās ar 13 punktiem. Komanda spēlēja arī Eirolīgas finālā, tādējādi tai tikai nedaudz pietrūka, lai triumfētu visos turnīros, kur tā startēja.
Visu daudz iespaidīgāku padara fakts, kāds "Barcelona" bija sastāvs garajā galā – Nikola Mirotičs, Pau Gazols (vairāk uz sezonas beigām), Brendons Deivijs un citi liekus komentārus Eiropas basketbolā neprasa. Godam nopelnīta vieta topa labāko trijniekā.
2. Dāvis Bertāns, Vašingtonas "Wizards" (NBA)
Jaunākais no brāļiem Bertāniem pēc lieliskas aizvadītās sezonas (vidēji 15,9 punkti, tālmetienus realizējot ar 42,4% precizitāti) un nopelnītā lielā līguma (pieci gadi un 80 miljoni USD, no kuriem 69 ir garantēti) šajā piedzīvoja kritumu. Viņa vidējie rādītāji nokrita visos svarīgākajos elementos – nospēlētajās minūtēs no 29,3 > 25,7, gūtajos punktos no 15,4 > 11,5 un arī atlēkušajās bumbās no 4,5 > 2,9. Protams, tam par iemeslu arī kalpoja savainojums, kas traucēja pilnvērtīgi sagatavoties aktuālai sezonai.
Tiesa, komandai pati sezona izvērtās daudz veiksmīgāka, jo tika pārvarēta "play-in" kārta un vismaz pirmajā "play-off" raundā bija iespēja pacīkstēties ar Filadelfijas "76ers", bet Bertāna spēles laiks un citi skaitļi gan palika vēl mazāki.
Neskatoties uz to, viņš ir svarīgs posms "Wizards" komandas mehānismā un uz viņa tālmetieniem aizvien tiek liktas lielas cerības gaidāmajā sezonā. Viņš ir stabila NBA vērtība un turpinās tāda būt vēl vairākus gadus. Protams, Ziemeļamerikā vairāki apskatnieki steidz aprunāt viņa iespaidīgo līguma apmēru, no otras puses ir tādi, kuri to uzskata par adekvātu, ņemot vērā, ka viņš ir viens no līgas labākajiem snaiperiem.
1. Kristaps Porziņģis, Dalasas "Mavericks" (NBA)
Porziņģis tika atzīts par galveno vaininieku "Mavs" neveiksmē "play-off" pirmajā kārtā pret Losandželosas "Clippers". Ja regulārajā sezonā vēl viņa sniegums lielu kritiku neizpelnījās (20,1 punkts un 8,9 bumbas zem groziem), tad "play-off" septiņās spēlēs statistika ir blāva – vidēji laukumā pavadītajās 33,3 minūtēs, izceļoties "vien" ar 13,1 punktu un 5,4 bumbām zem groziem, kas šajā rādītājā bija vien ceturtais rezultāts komandā. Tas viss esot dalīti garākajam spēlētājam laukumā starp abām komandām (runā, ka ar Bobanu Marjanoviču esot vienāds augums).
Tas raisīja spekulācijas vai Porziņģis netiks aizmainīts un uzdeva jautājumus – lomas spēlētājs par 30 miljoniem sezonā? Ļoti neizdevīgi. Tomēr pēc sezonas vienā no intervijām Porziņģis atklāti pateica, ka tas bijis Rika Kārlaila uzstādījums – slaidais latvietis nolikts stūrī ar domu atbrīvot laukuma plašumu pārējiem, kamēr viņam bijis jāstāv un jāgaida savas iespējas, kuras pienāca aizvien retāk. Par to liecina arī iespaidīgais kritums bumbas kontrolē. Ja Porziņģis regulārajā sezonā vidēji mačā bumbai pieskārās 59,4 reizes, tad "play-off" aina ir skaudra – kritums uz 35,9 pieskārieniem, kas rezultējās arī mazāk izdarītajos metienos un visā no tā izrietošajām sekām. Protams, var apelēt pie tā, ka pašam bija jābūt agresīvākam, bet trenerim jau pretī nerunāsi.
Lai vai kā, ir arī labās ziņas. Porziņģis pirmo reizi kopš atrodas Dalasā starpsezonā dodas pilnībā vesels un ir apņēmības pilns uzlabot gan fizisko kondīciju, gan tehnisko arsenālu. Jaunieceltais "Mavs" galvenais treneris Džeisons Kids jau paspējis izteikties, ka ir pārliecināts, ka nākamajā sezonā mēs redzēsim daudz labāku KP un viņš esot lielisks spēlētājs, ko likt blakus Lukam Dončičam. Un nav jau tā, ka iepriekš atsevišķos posmos viņi to nav demonstrējuši. Aizvien lielākā Latvijas basketbola zvaigzne, kuram ir visas iespējas par tādu atkal (jo vienreiz jau tika izvēlēts "All Star" spēlē) kļūt arī NBA mērogā. Ne par velti viņam piešķīra "max" līgumu.

Komentārs: Apkopojot topa noslēdzošo daļu, nāca dažas interesantas atziņas. Piemēram, ka topa 22. vietā (skatīt zemāk rakstos) esošais Leimanis statistikas ziņā VTB līgā "ieliek" Strēlniekam gan nospēlētajās minūtēs, gan punktos. Tomēr kā jau minēts – spēlēt vienā līgā, bet Maskavā vai Minskā ir liela atšķirība, toties jāatzīst, ka līmenis un pretinieki ir tie paši. Tikai attiecīgā indivīda līmenis ir augstāks, ja reiz viņš atrodas čempionvienībā.
Kādu varbūt pārsteigs augstā Freimaņa vieta, bet būsim godīgi – trešais rezultatīvākais džeks, iespējams, otrajā spēcīgākajā vietējā čempionātā, un komanda ieņēma sesto vietu ļoti sarežģītā konkurencē – tas ir liels sportisks panākums.
Runājot par Rodiona Kuruca vietu, jāpiezīmē, ka viņš teju visu sezonu atradās kāda NBA kluba sastāvā un tika iesaistīts maiņas darījumos, nevis kā Pasečņiks, kurš laukumā pabija piecas minūtes un savārīja tik lielas ziepes, ka ar viņu pat vairāk nebija gatavi auklēties. Un jaunu darba vietu viņš tā arī neatrada. Ja skatāmies no tāda aspekta, kuri no pirmā desmitnieka aizvadītajā sezonā salīdzinājumā ar iepriekšējo spēruši soli atpakaļ, tad tie noteikti ir septiņi (Lomažs, brāļi Bertāni, Porziņģis, Kurucs, Timma un Strēlnieks), "uz vietas" palicis Meiers, kas vērtējams pozitīvi, jo viņš tur līmeni, bet soli uz priekšu spēra Freimanis ar Šmitu. Uz kopējā fona tā nav laba tendence. Un atgādināsim, ka šosezon teju nemaz nav spēlējis Peiners un var teikt arī Pasečņiks. Līdz ar to no potenciālā jaudīgā izlases 12nieka variet parēķināt paši, cik procentuāli labi gājis vairumam spēlētāju.
Protams, šādos gadījumos sportiskā snieguma reinkarnācijas procesu var veicināt izlases sasaukums un kādi ar to sasniegti rezultāti, bet Latvija šobrīd gatavojas cīnīties priekš -kvalifikācijā ar baltkrieviem un rumāņiem. Tātad – šis punkts atkrīt. Jācer, ka visi izdarīs pareizos secinājumus starpsezonā un uz nākamo atgriezīsies labāki, mācoties no savām kļūdām, kas pieļautas šogad. Sapnis par pasaules kausa finālturnīru ir dzīvs. Ja nu kas, tad šī būtu pēdējā – pēdējā iespēja, tā sauktajai, "zelta paaudzei" ko nopietnu sasniegt uz starptautiskās skatuves. Ja nē, tad atkal vairāki gadi nezināmā. Un kāpēc individuālo sniegumu ir jāsavelk kopā ar izlasi? Jo izlase ir valsts galvenā komanda un kā mīl teikt Latvijas Basketbola savienības vadība – Latvijas izlase ir basketbola piramīdas svarīgākā daļa. Izlases panākumi veicina interesi par sporta veidu un pieplūdumu ar jauniešiem un bērniem. Ja panākumu nav, iepriekš nosauktie procesi nenotiek vai notiek ievērojami skaudrāk.
Spēku, veiksmi un izturību visiem gan topā nosauktajiem, gan ārpus tā palikušajiem Latvijas basketbolistiem vasarā un gaidāmajā sezonā!
"Sporta pils" piedāvā – Latvijas 30 labāko basketbolistu tops (1. daļa)
"Sporta pils" piedāvā – Latvijas 30 labāko basketbolistu tops (2. daļa)